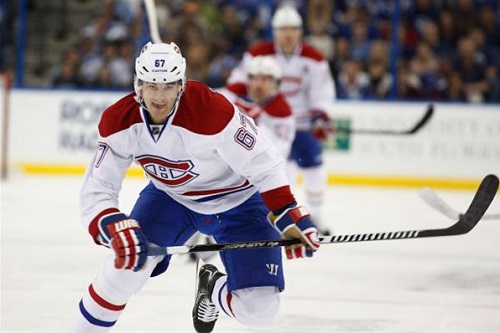 There will be a Canadien on the USA Olympic team. Montreal forward Max Pacioretty was one of 25 players named to the USA roster after the Winter Classic on Wednesday.
"It's obviously such an honour, especially when you see some of the guys who didn't make the team," Pacioretty told the Montreal Gazette. "It could have gone either way."
The 25-year-old Connecticut native has emerged as a pure goal scorer in recent years. His 17 goals this year rank him third among players named to the team. Last year, he had 15 goals in 44 games and two years ago he had 33. But he knows that he will need to provide more than goals if the USA team is to be successful.
"I attribute my game on my speed and I think I'll get an opportunity to use it," Pacioretty said. "I want to open some eyes out there."
The 6'2 Pacioretty is one of the bigger players on the Habs and plays a powerforward role. But with Dustin Brown, David Backes and Ryan Callahan all on the USA team, he will have more of an opportunity to get in the shooting area instead of driving to the net. It is unclear whether Pacioretty will get a top-six role but he will be allowed to play his offensive game.
This video from NHL.com shows Pacioretty's speed and skill with this breakaway goal against the Nashville Predators.
Pacioretty admitted to the Gazette that he wasn't sure if he would make the team. But when his wife Katia gave birth to their first child just before Christmas, he had something to help keep his mind off the Olympics.
"Ever since I had my kid I thought whatever happens, happens," he said. "I wanted to make this team more than anything but the past week I forgot about it. I told myself I wouldn't try to control things I can't control. I think that attitude will help me going forward."
The USA and Canada are big rivals in all international tournaments and Sochi will be no different. The Canadians will name their team on Tuesday and some of Pacioretty's Montreal teammates could be on that roster.
One of those players is goaltender Carey Price, who Pacioretty isn't looking forward to facing.
"I go up against him all the time in practice and I have trouble beating him," he said.
But last years Norris winning defenceman PK Subban?
"I'm never worried about that."