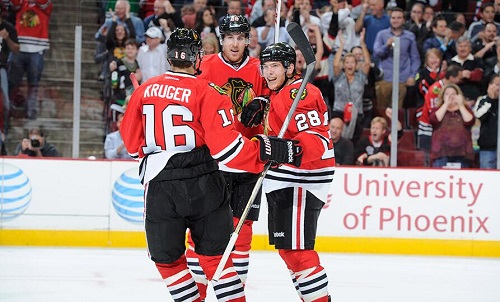 Blackhawks forward Jimmy Hayes is a big guy who was looking to make a big impression this week at Chicago's training camp.
He's certainly achieved that goal. The 6'6" forward had 3 goals and 2 assists in the first three days of camp scrimmages, a near-fight with defenseman Duncan Keith in Sunday's scrimmage, a goal in Monday night's training camp festival scrimmage, and an assist on a Ben Smith goal in Tuesday's preseason win over the Detroit Red Wings. Hayes has put himself in an excellent spot to snag one of the open forward positions – and he even has his eye on the role he wants. Now that Blackhawks coach Joel Quenneville is moving winger Bryan Bickell to the top line to play with Jonathan Toews and Patrick Kane, Hayes intends to put up a fight for Bickell's old third-line spot.
"He was a great role model to watch, a big, powerful guy, and I want to play similar to him," Hayes told Mark Lazerus of the Chicago Sun-Times. A big-bodied player who knows how to use his strength, Hayes is a terrific candidate to slide in as a third-line wing. Not only can he throw a hit, he can also be counted on to provide an offensive upside – last season in Rockford, he posted 45 points in 67 regular season games (25G, 20A) before coming to Chicago to practice with the team as part of the Black Aces group.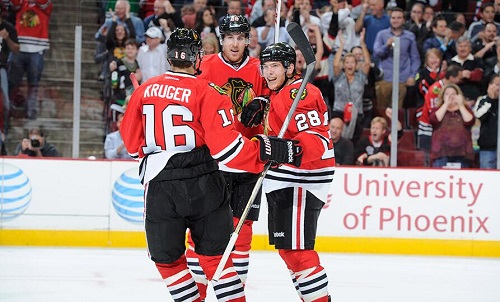 Hayes also trained rigorously during the shortened offseason. His main focus was on his conditioning and his skating, both of which were quickly noticed by the Blackhawks' head coach.
"He was one player that really stepped up and showed us that he wants to make our hockey team," Quenneville said. "He worked at a different level in the offseason, he prepared himself to be in much better shape, and you can notice his quickness and his drive out there."
Hayes knows this year could be make-or-break for him in terms of playing at the NHL level, and he definitely came to camp to compete. NHL coaches, particularly Quenneville, are always looking for players that can throw the body and contribute offensively, and Hayes appears to have taken that to heart. He has a new quickness about him that isn't easy for someone as big as he is, and he's driving the net like that third line spot is his to lose.
And who says it isn't?