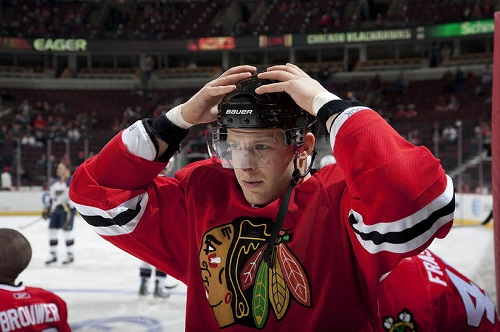 In case you haven't heard lately, he's back.
Kris Versteeg is back in the Chicago Blackhawks lineup as he was aquired from the Florida Panthers along with Phillippe Lefebrve in exchange for Jimmy Hayes and Dylan Olsen. Florida will also pay half of Versteeg's salary in the trade.
"It's where my heart is," Versteeg has commented after the trade that came late Thursday night following Chicago's overtime win against the Phoenix Coyotes.
To make room on the roster, Jeremy Morin and Alex Broadhurst have been sent to the Rockford IceHogs of the American Hockey League. Lefebrve has been sent to the Toledo Walleye of the East Coast Hockey League.
Versteeg practiced Friday with the Blackhawks, donning his new number 23, which is the opposite of his 32 many Blackhawks fans remember him wearing when he helped bring Chicago the Stanley Cup in 2010.
Versteeg staked on the third line alongside Brian Bickell and Andrew Shaw during practice, and we can expect him to fill that slot in games.
"Maybe we'll have some eight-goal games now," said Shaw.
Though the move may be exciting and a little reminiscent or heart-warming for Blackhawks fans, there are some soft spots in the move.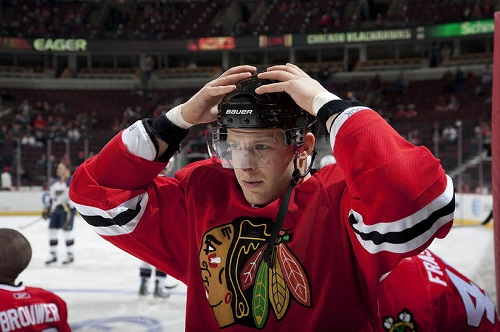 Versteeg is coming off a major knee injury. While it's true that he is skating again, his statistics so far this season have been terrible in Florida. But it's difficult to tell if that is a result of the injury, or the result of him playing in Florida.
Chicago is a much more offensively powerful team, with a strong focus on putting the puck in the net. Versteeg will be allowed to play in that system where he will get more looks at the net. However, it will have to be in coach Joel Quenneville's system. With the Panthers, Versteeg was a big-dog and allowed to have his run of the yard. Back in Chicago, he'll have to answer to teammates and coaches that already know his personality and playing style.
He'll have to contribute as a member of a unit, a team. He will certainly help with the penalty kill and power play, but that knee injury will keep him from having the quickness fans remember back in 2010.
Blackhawks General Manager Stan Bowman was the brains behind the Versteeg reacquisition. The unofficial motto in Chicago is "In Bowman We Trust," and so far it's worked. While there are some questions and it's likely Versteeg won't be the player fans remember him as in 2010, it's still a quality move that will help Chicago.
Welcome back, Steeger.