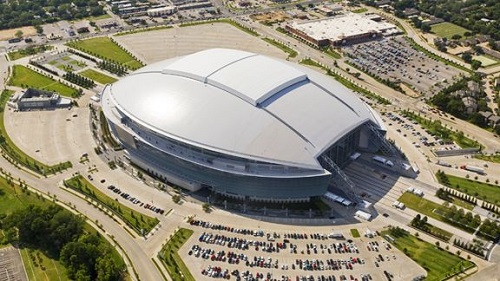 Outdoor hockey games have been rising in popularity within the NHL and seem to be popping up everywhere, even in sunny Los Angeles. With the success of the Stadium Series game in LA between the Los Angeles Kings and Anaheim Ducks, many Texans are asking for a game here in Dallas, after all, everything is bigger in Texas, right?
The Dallas Stars organization has listened to fans and are currently considering a game at none other then AT&T Stadium, also known as "Jerry's World", "The House that Jerry Built", or simply Cowboy's Stadium to residents of North Texas. While nothing is set in stone, many fans are ecstatic to hear of the possibility of an outdoor (somewhat) hockey game played in Arlington, Texas and some are not too thrilled to hear it may be held at AT&T Stadium.
Stars president and CEO Jim Lites recently spoke on the subject saying, "The league is interested and after seeing how well things went in Los Angeles, we could certainly do it here. But we're not talking next year. Maybe 2015-16 or 2016-17 makes more sense."
Why wouldn't it work?
The main concern for the Dallas Stars at the moment is their ability to fill the American Airlines Center, let alone the gargantuan AT&T Stadium. While attendance in the AAC isn't necessarily bad, it has dropped off the last few years with the Stars' repeated failure to make the playoffs. Sure, a special game held in the home of the Dallas Cowboys would draw fans that don't watch hockey on a regular basis, but it simply wouldn't be enough to draw a notable crowd.
One reason it would be hard to draw such a large crowd: prices. The cost of attending a Dallas Cowboys game is pretty high when you combine the cost of tickets, parking, and any food, drinks, and souvenirs that you may purchase. For an event like this that Jerry Jones surely wouldn't have too much faith in, the prices would likely skyrocket, going out of range for many fans. Others just simply don't want to put more money in the pockets of the greedy Jerry Jones.
Rangers Ballpark in Arlington
While AT&T Stadium doesn't really seem like a plausible venue for a Dallas Stadium Series game with its high capacity and prices, the Cotton Bowl would likely cost less, but has about 10,000 more seats that would make it even harder to fill. The best option for the Dallas Stars to hold an outdoor hockey game would be at the Rangers Ballpark in Arlington, home of Major League Baseball's Texas Rangers.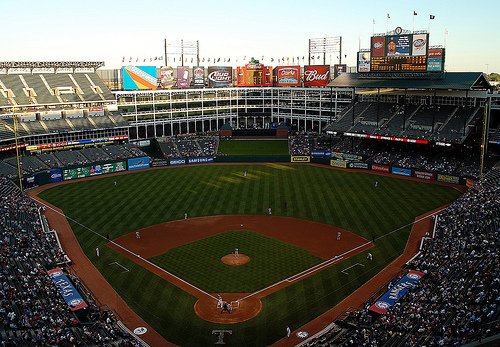 First off, the Dallas Stars and Texas Rangers organizations have a better relationship, which will help in the planning process. While the ballpark still has a capacity of 48,114, (29,614 more than the American Airlines Center) it is completely possible to fill or at least come close to filling when you add in the people that will attend for the fact that it is a special event as well as fans that will travel to see their home team play. The smaller size of the ballpark will also make it easier for fans to see and lower prices than AT&T stadium will allow for an altogether better experience for the fans and attendees.