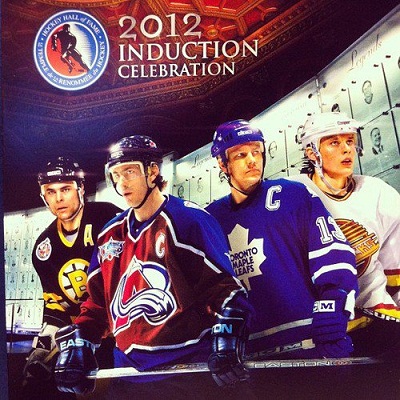 Class, Style, Grit, and Elegance. All words that could describe the four men that were inducted into the Hockey Hall of Fame Monday night in Toronto. Pavel Bure, Joe Sakic, Mats Sundin, and Adam Oates were all inducted to the HHOF, and what a deserving class this is.
Sakic and Sundin began their career together on the Quebec Nordiques and were selected to the Hall of Fame in their first year of eligibility. Oates and Bure got in after waits of five and six years. Between the four new inductees, they scored 1,967 regular season goals and added 3,786 assists. Sakic, self-proclaimed, Burnaby Joe, spent his entire career with the Nordiques/Avalanche franchise and served as captain for nearly two decades. He had two 50 goal seasons, and had six 100-point seasons. The Vancouverite won Stanley Cups in 1996 – where he won Playoff MVP – and in 2001.
Mats Sundin was a huge centre who controlled the area around the net like it was his own. The native of Bromma, Sweden made his name mostly as the captain of the Toronto Maple Leafs. Unfortunately Sundin never won a cup, but he did captain and lead the 2006 Sweden team to a Gold Medal. He also was the first Swedish born player to earn 1,000 NHL points. Sundin was traded to Toronto in 97' and went on to play 13 seasons with the Leafs and 11 as Captain. He holds multiple team records such as, most 20-Goal seasons, and most 30 goal campaigns. Sundin finally retired after a brief stint with the Canucks in 08-09. Sundin finished his career with 564 goals and 785 assists in 1,346 career games. Sundin is the second swede to be inducted into the Hall. The first was another Leaf great, defencemen Borje Salming.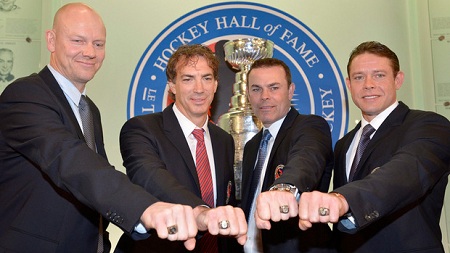 Adam Oates who was never drafted and was actually a prolific box lacrosse player signed as a free agent by the Detroit Red Wings in 1985. Oates was the best passer of his time. He formed legendary one two punches with finishers like Brett Hull in St. Louis and Cam Neely in Boston. Oates had 341 goals and 1,079 assists and is in 6th place on the NHL's all-time list. Oates played nearly two decades with seven different teams.
Pavel Bure, a right winger known as the Russian Rocket could lure fans out of their seats like they were magnets with his high speed rushes up the ice for Vancouver and Florida. The Moscow native defected from the former Soviet Union to join the Canucks in 1991 and won the Calder Trophy as a rookie of the year, the only Canuck to do it in team history. Bure became the most exciting goal scorers of the 90's and early 2000s with quick moves and rushes up the ice; it could easily pull anyone from their seat. Bure had 437 goals and 342 assists over 11 seasons with the Canucks, Panthers and the New York Rangers. He had two 60 goal seasons in the early 90s and had five seasons of 50+ goals. Bure joins fellow countrymen, Viacheslav Fetisov, Vladislav Tretiak, Igor Larionov and Valeri Kharlamov in the Hockey Hall of Fame.
All men are very deserving of this honor and from everyone here at Hooked on Hockey Magazine, we send our Congratulations to you.