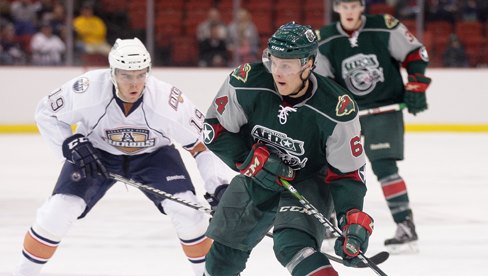 The following is a quick update on the Minnesota Wild's AHL team-the Houston Aeros.
Standings: In 16 games played, Houston has seven wins, six losses, one overtime loss and two shootout losses (7-6-1-2). They trail the Oklahoma City Barons by one point for second place, and are currently seven points behind the Charlotte Checkers for first place in the AHL's South Division. The Aeros are currently tied with the Rochester Americans for eighth place in the AHL's Western Conference. This is important, as only the top eight teams from each conference will make the playoffs
Stats: Houston has scored 56 goals this season. A number that is good enough to make them the AHL's second highest scoring team at this point in the season. Disappointingly, they have allowed 52 goals to be scored against them, which is the second-highest total allowed in the AHL so far.
Player Updates:
-Mikael Granlund, the Wild's top prospect, has missed the past eight games for the Aeros due to a sprained ankle. Before suffering the injury, Granlund had 4 goals and 8 assists in just 8 games played. And he was named the AHL's rookie of the month for the month of October. Granlund's 1.5 points per game led the AHL at the time of his injury.
-Charlie Coyle, Minnesota's number two rated prospect, has been just as impressive as his teammate, Mikael Granlund. Coyle, in his first professional season at any level, has 7 goals and 4 assists on the year. He has also played major minutes on the penalty kill for the Aeros this season. Aeros' coach John Torchetti, and general manager Jim Mill, both believe Coyle will be making his debut with the Wild this season (If we have an NHL season). Both men have praised Coyle for his hard work every night, his strength in front of the net, and his defensive zone play. All rare traits for a rookie to possess.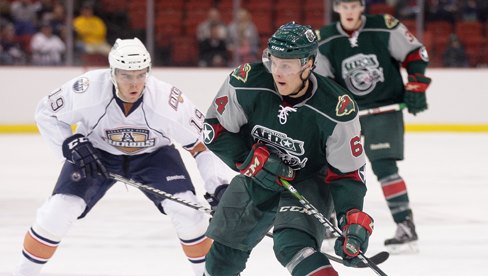 -Jonas Brodin- Unfortunately, Brodin, the Wild's best defensive prospect, suffered a broken collarbone in the same game Granlund sprained his ankle. In the eight games he played played in before getting hurt, Brodin was able to record 2 goals and 2 assists.
-Jason Zucker's 13 points, places him in a tie with Aeros veteran Justin Fontaine for the team's scoring lead. Zucker, another top-ten Wild prospect and AHL rookie, has 7 goals and 6 assists in 16 games played. He also leads the team with 39 shots on goal.
-Johan Larsson, yet another top-ten Wild prospect and AHL rookie, has 5 goals and 5 assists in 16 games played. Larsson has played on the penalty-kill and has displayed the defensive and offensive capabilities needed to become a future NHL player.
-Zach Phillips, another of the Wild's highly rated AHL rookies, has scored 1 goal and 4 assists in 14 games played. Out of all of the Wild's top prospects playing in Houston, Phillips has struggled the most. He is a team worst minus 7 in the plus/minus category. His lack of foot speed is noticeable at the AHL level.Bre
-Marco Scandella was one of the Wild's best defenseman last season. In Houston, he has picked up his play even more. Scandella has 9 assists in 12 games for the Aeros. And he leads the team in minutes played per-game.
-Matt Hackett, the Wild's top goaltending prospect, has struggled so far this season. He has 4 wins, 5 losses, and 2 shootout losses(4-5-2). Hackett also boasts an inflated 3.14 goals against average this season. And he has a save percentage of just 89.3%. Which is unacceptable for a starting goalie at any level. Hackett must pick up his play this year if the Aeros are to be as successful as they should be.