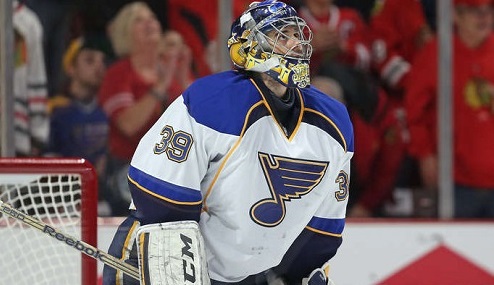 Ryan Miller finally was placed in a good situation after years of mediocrity with the Buffalo Sabres. After having 3 head coaches in a span of 2 seasons and a dismal year this season, Miller was traded to the St. Louis Blues. St. Louis believed that Miller, a 2-time Olympic goaltender was what they needed to win the Stanley Cup. They were wrong.
Miller started off well with the Blues. In March, he went 9-3-1 with a 2.18 G.A.A and a .912 Sv%. He probably also enjoyed the fact that he wasn't facing 40-45 shots a game like he was with Buffalo. St. Louis looked like they were going to be the favorites to win the President's Trophy and the #1 seed in the Western Conference.
Well, April started off with a shutout win over the Philadelphia Flyers on April 1st. Boy, did the Blues ever play an April Fool's joke on their fans. Miller would lose his next 5 starts, allowing 18 goals, 12 of which at even-strength! His April totals were a 3.31 G.A.A and a .885 Sv%. Terrible numbers from someone who almost led Team USA to a Gold Medal in the 2010 Winter Olympics.
St. Louis, due to losing so many games in April, was the #3 seed and had to face the Chicago Blackhawks in the first round. Tough task, considering they have Patrick Kane, Jonathan Toews, Marian Hossa, Patrick Sharp, Duncan Keith, and the list goes on and on and on. The Blues took care of business the first 2 games at home but Miller allowed 3 goals in each of those games. Miller then allowed 13 goals over the last 4 games of the series and the Blues went on to lose to Chicago in 6 games.
Miller finished this postseason with a 2.70 G.A.A and a .897 Sv%. Not very good numbers from someone looking for Henrik Lundqvist money.
So here is the question: What is Ryan Miller worth? He will be 34 years old this July. He made $6.25 million this past season. Had he stayed with the Sabres, they probably would have given him a contract to finish his career in Buffalo. (I'm thinking 6 yrs/$36 million) With his horrid finish to the season and his awful playoff performance, Miller's value definitely took a hit.
Do the Blues believe that they can rebound from this year with the same players? Miller will probably get a deal somewhere in the 2-3 year range for about $5 million/yr.
Hopefully Miller will latch on with a team and win that elusive Stanley Cup. He CANNOT play like he did in the playoffs. He will have to return to his form from the 2010 Olympics.