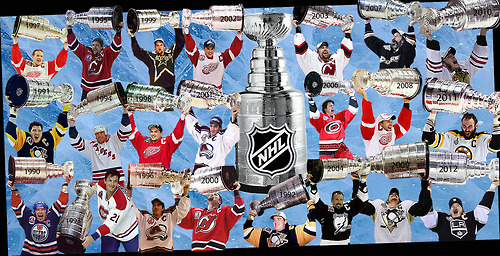 What does it really take to win a Stanley Cup and contend consistently in today's National Hockey League? Of course you have to take into consideration the blood, sweat and tears that the players leave on the ice and the countless hours spent training for that one moment of hoisting 34 and a half pounds of greatness. Give credit where credit is due, if the players don't play up to their capable levels, then the dreams of sipping champagne and beer out of Lord Stanley just will not come to fruition. What we really need to take a look at here is how these championship-caliber teams come about and what sets them apart from the rest of the National Hockey League. We will take a look at how the last 3 different Stanley Cup winners were built and why they have the success that they have had.
Since the last 4 cups have alternated between the Blackhawks and Kings, we will also analyze the 2011 Stanley Cup winning Boston Bruins.
The first thing you need to take a look at is how these franchises' rosters are constructed. What do all 3 of these teams have in common and how can you use this information to build a contender in the salary cap era? All three teams had, at the very least, a goalie that was able to perform in the playoffs, as well as a number 1 defenseman and number 1 center. The key in the salary cap era is to build a core around these positions, then fill the rest in with interchangeable players. We look at these teams and realize that they all had cores they built around and timed it very well with the promotion of young players playing on their entry-level deals. Of course the players on the ice have the biggest role in winning a championship, but the roles of the management team in a salary cap era are so vital and need to be recognized.
2011 Stanley Cup Champion Boston Bruins
Built around a 33-year-old Zdeno Chara, 25-year-old Patrice Bergeron and Vezina Trophy winner Tim Thomas, the Boston Bruins were poised for a Stanley cup run in the 2010-2011 season. Add in 2nd overall pick Tyler Seguin on an entry-level deal and veterans like Ference and Seidenberg on the backend, and the Bruins were able to put together a solid core of players to compete for Lord Stanley. Peter Chiarelli was able to build a team that had a mix of size, skill and youth, which was able to wear down teams and punish them late in games. Most importantly, Chiarelli was able to build a core of players and add pieces around them to complete that core. Built around the largest shutdown defenseman in the NHL, the best defensive center in the NHL and a goalie that will go down as one of the more obscure but great ones in NHL history, the Bruins were able to capture their 6th Stanley Cup in franchise history.
2014 Stanley Cup Champion Los Angeles Kings
General Manager Dean Lombardi was able to build a core that is still arguably the best one in the National Hockey League, besides maybe the one that their nemesis in Chicago created. A core of 26-year-old Anze Kopitar, 24-year-old Drew Doughty and 28-year-old goalie Jonathan Quick allows the Kings to arguably boast the best combination of number one center, defenseman and goalie in the league. Add on to that core 29-year-old sniper Jeff Carter, and 31-year-old Marian Gaborik and you don't really need a whole lot else in terms of building a roster. With that being said, the Kings were also able to get contribution from youngsters Tyler Toffoli and Tanner Pearson, both on entry-level deals. Not only were the Kings loaded with skill, they also had the size to grind out games, much like the 2011 Bruins.
2015 Stanley Cup Champion Chicago Blackhawks
This was a fun team to watch. Going into the season, fans were very well aware that this was likely the team's last "hurrah" with this core, but the Blackhawks did what few teams are able to do in the NHL, they got it done. For the 3rd time in 6 years. That is not a typo, 3 cups in 6 seasons. In today's salary cap era, people need to understand the difficulty of winning three cups in six seasons. Now let's not get ahead of ourselves and call them a dynasty as that would be offensive to the Canadiens teams of the 70's and Islanders of the 80's and the Gretzky-era Oilers, but this core of individuals is one of the most talented in recent memory. The Blackhawks built a core around 27 year old Jonathan Toews, 26-year-old Patrick Kane, 31-year-old Duncan Keith, and proven winner 30-year-old goalie Corey Crawford. Although the critics are still out on Crawford, he has provided them with stable goaltending and hasn't been poor enough for them to lose big games.
In addition to that, the 'Hawks also employ defensemen Brent Seabrook and Johnny Oduya, as well as one of the most underrated players of this decade in Marian Hossa. Patrick Kane, arguably one of the best playoff performers in recent history just adds to the riches of a well-built Blackhawks team. This team's embarrassment of riches continues, as they boast proven veterans like Patrick Sharp and youngsters like Brandon Saad and Teuvo Teravainen making the Blackhawks success in the past 6 seasons hard to deny. Even though the salary cap is likely increasing in the coming years, the new contracts of Toews and Kane will still force Stan Bowman's hand. Taken this into consideration, it is still hard to believe that with a core of players like Kane, Toews and Keith locked up that the Hawks will not be contenders for years to come. Even with the Hawks having to adjust to a moving cap, you can't deny the on-ice talent that Blackhawks will still be able to ice. It is in most people's minds that the Hawks will likely be shopping Patrick Sharp and Bryan Bickell this off season and we will likely see the likes of Brad Richards and Johnny Oduya walk in free agency. Kudos to Stan Bowman, this is a well-built team.
We look at these three franchises and we have a common model of success. In today's NHL, a core of players needs to be established and interchangeable players need to be let go or traded in order to the keep your best players together. The three components to winning a Stanley cup are simple, but so hard to come by. Let me tell you this much, if you have the much desired number 1 center and defenseman that teams covet, don't be stubborn and let them go, because they may just make another team the winner in the end.