Featured
Phoenix Coyotes
Howl Far We've Come: Ricci Returns from the Road After Coyotes Ousted From Playoffs in Game 5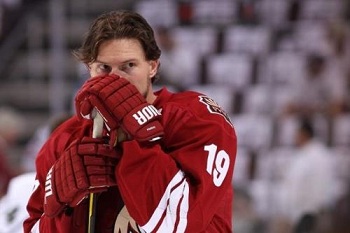 Disclaimer: Yes, this article is delayed, but readers who follow me and the Coyotes may understand and hopefully forgive me for needing some time for grieving, and clearing my head so I could write this article devoid of profanities.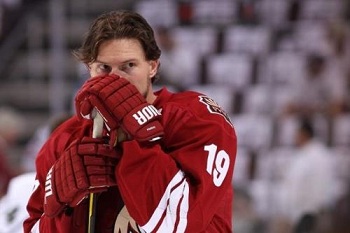 Last Tuesday the Coyotes suffered an irreparable 4-3 OT loss to the LA Kings at home in Jobing.com Arena exiting them from the 2012 NHL Playoffs.
The Pacific Division Champs had their work surely cut out for them in this series, and they knew it too. In a do-or-die Game 5, the boys skated harder in the first period than I'd seen them all post-season. They kept after it, knowing they'd need to take the lead early. First goal went to the Coyotes, thanks to tag team efforts by Pyatt and Hanzal. From there though, the rest of the first and second became a scrappy game of cat-and-mouse.
The second period in boasted two more goals from each team, and the Coyotes showed some moxie in their efforts to stay in this post-season. Marc-Antoine Pouliot came up big and scored his first career playoff goal at 6:23 of the second. Pouliot didn't score in 13 regular-season contests for the Coyotes this season, and hadn't scored an NHL goal since April 2, 2010, when he played for Edmonton.
Play became quite sloppy in the third, but the Coyotes looked to be holding strong. The vibe on the ice was frantic. This frenzy grew and grew; from both teams- as if the Kings knew that letting the Coyotes win this one and gain confidence would prove fatal.
Third ended 3-3.
OT began.
I received numerous text messages from friends having heart attacks, and several other concerned messages about how to prevent mine.
Within a short whirl-wind, OT became Dave Tippett's worst nightmare. Things were heating up as Mike Smith lost his glove, Drew Doughty was wildly out of control, and the officiating… let's just say that they lost control over the consistency of their calls in this game, heck, in this series.
Arguments emerged about penalties being called and not called from both sides. However none was as significant as the Dustin Brown hit. Brown's hit on Coyotes Michal Rozsival in overtime is still a sore subject and debatable argument amongst Coyotes and Kings fans.
Even Mike Milbury and Jeremy Roenick have a battle of words over the subject- http://youtu.be/GRCuM0xhuAI
What happens seconds later, the next face off to be precise, is shocking and all too fast for Coyotes players and fans. The Kings win the face off and bring the puck down into the offensive zone, Carter takes a shot from the right side, and it pops back out in front of goalie Mike Smith. There seems to be a second where time stands still. Smith knows he is too far down. Dustin Penner is sitting right in the high slot, ready for the rebound. He scores. At 17:42 of overtime, the LA Kings take the win and eliminate the stunned Coyotes.
And so ensues one of the most awkward and heated handshakes seen in hockey. Coyotes Captain Shane Doan and teammate Martin Hanzal are still too fired up to nicely shake Dustin Brown's hand. Words are exchanged, and the media has a field day with 'Yotes and their post-game emotions.
Mike Smith explains the loss-
"It's disappointing for a season to end like that. It stings. We gave it all we had. We battled hard all season long. It's disappointing we not only got beat by them but got beat by the officials, too. It's not just this game, it's all season long. They did everything they could not to let us get to this position.
I'm not taking anything away from the Kings, they deserved to be here, they played hard and they were a tough opponent. But we battled as hard as we do to get to this point, and seemed like everyone was against us. We battled through adversity through a lot of things that went on. But the officiating … if you're going to be reffing in the playoffs, it's tough [with] some of the calls that weren't made tonight." (Taken from Puck Daddy on Yahoo Sports)
This loss by the Coyotes, seemingly bitter and negative, was portrayed in a poor light due to the conditions of this last Game 5. There was still a lot to like about their postseason, but the 'Yotes frustrations got the better of them.
In the end skill and speed won over tenacity and grit, and the LA Kings worked hard to earn their spot in the Stanley Cup Finals.
Despite the hurt and exasperation, I had a personal observation of the heart of the Phoenix Coyotes. After the game I waited outside the arena while catching up with a friend who drives the Zamboni, right near the exit tunnel of the players. There were about six fans lingering, and they waited a good couple hours, post-game for a chance to bid farewell to the Coyotes, and maybe a handshake and an autograph. To my surprise, several players stopped to acknowledge the fans for the support, or even giving an appreciative honk. These are not bandwagon fans mind you, I've probably seen those six fans faces at every game I've attended the last several years. The 'Yotes knew that too, and even when they wanted to book it home and forget their frustrations (perhaps in a beer or two), they stopped and they said thank you.
Regardless of the outcome, some praise is well deserved for these desert dogs. As Sarah McLellan writer for The Arizona Republic said "That missed opportunity won't define this team." They might have gone home pretty banged up, but in time they will be able to reflect back on just how much their accomplishments trumped their shortcomings.
The Coyotes won their first Pacific Division title and made it to the conference finals for the first time in franchise history.
Mike Smith, the goaltender who materialized out of nowhere, had a banner year full of record-breaking numbers, and has emerged as a leader and motivator for this team. I think it's fair to call him MVP.
Dave Tippett, a coach who is well-respected around the NHL, is proving that his system works and the way he handles his players is a method to be modeled after.
Shane Doan, Captain, highly-regarded player and man across the board, led this team to new heights. "Shane is priority No. 1," Don Maloney said. "Once our ownership is settled, we plan to keep Shane. He's not going anywhere if I have anything to do with it – within reason." He added, "Once we have our ownership settled, we'll immediately go after Shane and make sure we do everything we can to keep him a Coyote for the rest of his career. That's a goal of mine."
Martin Hanzal, Antoine Vermette, Radim Vrbata and Keith Yandle are locked up on multi-year deals with the Coyotes, and they have faith in Tippett to lead them to even bigger things next season.
For a perpetually underdog team on the verge of securing an owner and a competitive budget, that's not a bad position to be in.