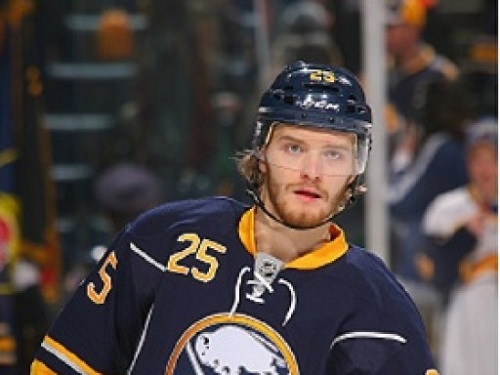 Mikhail Grigorenko's life has drastically changed since his bronze medal finish at the 2013 WJC:
• Jan 29, 2013: Buffalo Sabres informed Grigorenko that he will be staying with the team for the rest of the season
• That SAME DAY: Grigorenko scored his 1st career NHL goal against the Toronto Maple Leafs

• TWO days later: Grigorenko picks up his 1st career NHL assist against the Boston Bruins
Grigorenko was all smiles when I spoke with him after the 7-4 win over the Bruins. Here's what he had to say:
How did the team tell you that you would be staying in the NHL?
(Smiling) I played in five games, came to practice in the morning – and the general manager and head coach called me over. I didn't know what to expect. But they told me, "Tonight you will be playing your 6th game and you are staying with the team."
Buffalo ended up losing in OT, but you will forever remember that game against Toronto because you scored your first NHL goal. How did that feel?
There were of course, many emotions that I felt. I was very happy that I scored and my line mates were very happy for me – that was very nice to see. It started off as such a frustrating game. Nothing was working for me in the first two periods! I was given another chance and started to play better – and then I scored. It felt like a huge weight was lifted off my shoulders.
You are used to playing many minutes in juniors and now you are often on the bench wondering when or if you will be put in. How have you adjusted to this? Has it been difficult?
I know that in every game I will get my 10-12 minutes. I try to be focused and ready for every shift. I think this is a good experience. Every player goes though this. I will do whatever it takes to get to the next level. I'm ready for the NHL.
What are the biggest differences playing in the NHL and the QMJHL? (Junior league)
The biggest adjustment has been the time you have to make decisions and the speed of the shooting and passing. Also, everybody is a lot bigger here and you always have to keep your head up to avoid injuries.
What do you think you need to work on to become a better player?
Everything that I have needs to be raised to a new level. I think that will come with age and experience. Adapting a little more to the level of the NHL will help as well.
What does Lindy Ruff want to see from you on the ice?
He wants to see me play tougher defensively, battle for the puck, and continue working hard. He wants to see me hustling and my legs to constantly be working. He also told me that when I get the puck in my possession to do what I know how.
You play very tactfully, you're always thinking and read the game very well. Who are some players that have inspired you?
I knew of many hockey players, but I never really got to see them play. In Russia, they didn't show the NHL. When I became a bit older, I began liking Ilya Kovalchuk. I've liked him ever since he scored the gold medal goal in the 2008 World Championships in Quebec.
Is it true that you wanted to wear #89 in honor of Alexander Mogilny, former Sabre from your hometown?
(Laughing) Not really. I was asked this in an interview and I said that. I'm happy with 25. That's what I've played with my whole life and that's what they (Sabres) gave me.
How were World Juniors in Ufa this year? Do you think it helped your game?
I think it definitely did. In Russia, all the hockey fans thought that I had an unsuccessful championship, but when I came here they all said that I played well throughout the entire tournament and had a great showing. Of course my stats could have been better, but the Buffalo Sabres told me that my showing at the WJC became one of the reasons as to why I stayed with the team.
Goalie Andrey Makarov was on your team at the WJC and is also drafted by the Buffalo Sabres. Would you like to play with him again?
Yes, of course. There are no Russians on the team right now and it would obviously be more fun with a Russian – especially Makarov. I think that he will be at the Sabres camp in the summer and hopefully he will have a good showing and make his way here.
Makarov or Vasilevsky? 🙂

They are both great goalies, but given that we are both now a part of the Sabres organization – Makarov.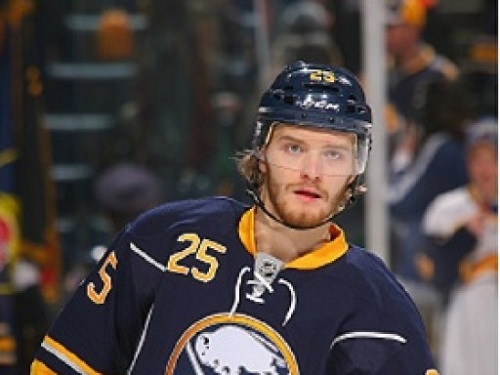 What can you tell me about the city and your first few weeks in Buffalo?
I haven't had time to see many places, but of course people are very nice here. They all love hockey and sports, so it's nice to be in a city like this – especially playing in the arena. (First Niagara Center) It's a great arena and it feels like you are part of a family. It's a pleasure being in Buffalo.
Are you planning on living with some teammates or looking for your own place?
I am starting to look for an apartment.
Have you tried Buffalo's famous chicken wings yet?
No. (Laughing)
Do you miss Russia?
No, I wouldn't say that I miss it. I like everything here. Of course, there are moments when I miss my friends and family, but I always try to stay in touch with them. My parents visit sometimes too.
What advice would you pass along to 2013 draft prospects: Duclair, Erne, Sorenson, Etchegary? You were in their place not too long ago.
I would tell them to try and do everything that coach Patrick Roy tells them to do. Play the game like you know how and most importantly – work hard!
Who has helped and/or continues to help you most in Buffalo?
I can't single out anyone, but in general all of the guys on the team. Especially the first few days, they all came up to me, gave me their numbers and said that if I ever need anything to not hesitate to call. Whether I needed to be picked up, dropped off, or if anything else came up, they would be there no questions asked. I never expected such hospitality like this. It has been great so far.
Find the original interview in Russian here at "Sovetsky Sport" – National Russian Sports Newspaper.