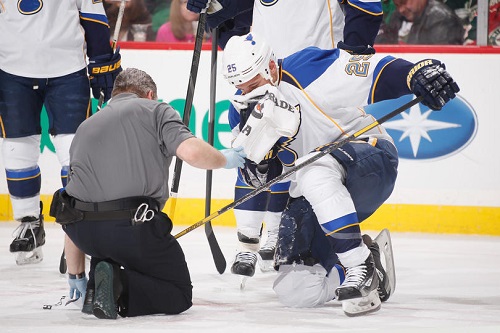 Once again the Blues are facing a handful of injuries, and again the list seems to be exclusive to only highlight players.
Chris Stewart was the most recent addition to the injured reserve list, after taking a shot to the face, but was back on the ice to face the Columbus Blue Jackets. Alexander Steen is out with concussion symptoms which is scary for both Steen and the Blues. Derek Roy, Roman Polak, and Vladimir Sobotka are all off the ice. Jaroslav Halak is out sick and Jake Allen has been called up to help fill that gap. Jordan Leopold was out with a hand injury, but has now been activated. David Backes was out for a bit as well, but is now back, much to the delight of Blues fans.
In fact, with St. Louis becoming the third best team in the NHL, Blues fans have a lot to be delighted about. The Blues have been hit hard by injuries the last few seasons and the injuries have always been crippling to their season. This year, though, looks like the exception.
While the Blues are facing tough injuries on top-line players, they are finding ways to pull out victories. St. Louis is getting contributions from younger players on the roster and they are getting goaltending solid enough to keep them in close games.
But perhaps the biggest factor contributing to the success of the Blues this season is their mental game. The Blues are showing up to each game with the hunger and believe that they are leaving the arena with a win.
Even facing top NHL teams, like the Chicago Blackhawks, who have yet to beat the Blues so far this season, the Blues are standing strong and holding their ground through determination and grit. Hard-hitting and strong play along the boards and in the corners are the small battles that St. Louis is winning, giving them an opportunity to score enough goals to stay with top-scoring teams like Chicago.
It's starting to look like all the pieces are finally coming together for St. Louis. The last few seasons the Blues have looked good on paper. Their roster has been filled with a good mix of veterans and young guns. This year is no different. But what is different is the attitude that injuries aren't a hindrance, but rather a chance to push over the obstacle and prove that the Blues have resiliency.