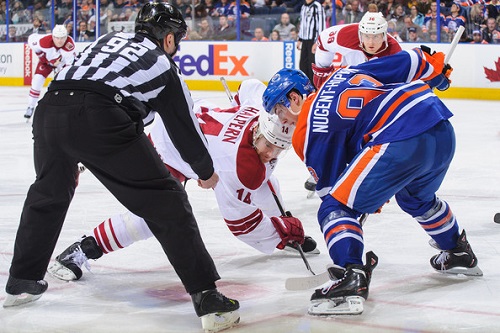 *****Before I start things off here, I'd like to say thanks to the Hooked On Hockey staff for giving me the chance to write here. I'm really looking forward to talking Oilers during the upcoming season, and I hope you all enjoy it! Now, onto the fun stuff, like arguing about the Oilers center depth!*****
There's a bit of a debate, okay a huge debate, raging in Oil Country about the number two center spot in Edmonton's lineup. The Oilers have their top-spot set, as 2011 first overall selection Ryan Nugent-Hopkins will hold down the spot, with Taylor Hall and Jordan Eberle likely on his wings.
That was a line that came close to dominating last year, and the Nuge will be fully healthy for the season. He's close to a top-line guy, and it's easy to expect him to make the leap this year to being a legit top-pivot.
The team also has Boyd Gordon, a great defensive center, who will likely hold down the fort on the fourth-line, which Dallas Eakins wants to be a tough-assignments line that gets the gauntlet of defensive zone starts.
The third line is slated to be a soft-minutes scoring line and two internal options, Mark Arcobello and Leon Draisaitl, make a ton of sense for the spot.
That still leaves line two open, but is it really that big of a hole, can Edmonton fill it from within with one of Arcobello or Draisaitl? What about one of the prospects bubbling under in Oklahoma City?
Arcobello:
The Oilers likely want a bigger second line center that can play a solid two-way game to slide in behind RNH. Unfortunately, Arcobello is not a big player, standing in at just 5'9" and 165 pounds. That's likely not going to cut it in the big Pacific division, and it puts Arco behind the eight ball.
Arcobello does lack somethings that are needed to be successful. He doesn't have a great NHL shot, evident by his stint in Edmonton last year, and he lacks experience, playing in only 42 NHL games throughout his pro career, including 41 games this past season. He's looked good in a small sample size, but in no way is he proven.
That being said, there is a lot to like about this player. Arcobello is a terrific play-maker, posting 14 assists in 41 games. While those stats don't look great, keep in mind he put up most of those points in a stretch early on, before he was relegated to fourth line duty and got stuck with the boat-anchor named Gazdic.
Arco's 18 total points in 41 games is decent when considering the role he played. He posted decent point totals when he was in a top-six role, but faltered when he moved down the line-up with far lesser teammates. He posted solid boxcars when playing the role in question, which is a good sign if he were to win this job.
His advanced stats were really good as well. Jonathan Willis of the Cult of Hockey blog pointed out that in the 13 games Arcobello filled in on the second line for Sam Gagner, he posted a Corsi For % of 50.6 %, a terrific amount on a team like last year's Oilers. Willis also pointed out that the team out-chanced opponents with Arco on the ice.
In addition to his offensive game, Arcobello is a very solid two-way player. He's aware of where he needs to be on the ice, and he is a guy that is very smart defensively. While he isn't going to post the offense that Sam Gagner did, he's likely to be a sizable upgrade defensively over number 89.
Arcobello's size is a tad of a concern too, but he is a guy willing to bang and won far more puck battles than some of the bigger forwards on the roster last year, namely Ryan Jones and Jesse Joensuu.
He's not the sexy name, but Mark Arcobello looked decent last year, and represents a potential option at the second line center's spot. At worst, he's a decent two-way forward with minimal offense.
Dr. Drai:
Leon Draisaitl, aka Dr. Drai, was the third overall pick this past June, and comes with some lofty expectations moving forward. Leon is a big boy, and possesses the skill set Edmonton desperately needs. He's got elusive offensive skills, a good shot, a high ceiling potential wise, excellent puck-possession skills and an ability to play with skill.
That all being said, Leon is a true rookie, never before playing a pro game. Sure, he looked good at the World Championships for Germany this past spring, but that was only a seven game test, and it wasn't against the best in the world.
The skill-set of this player perfectly fits the hole Edmonton has on it's second line, but Leon is not going to realize that potential right away, and asking him to play on the second line may just be asking too much. In fact, I don't think asking Leon to play in the NHL right away is a good bet. I believe another year in the WHL, or a year in Europe, would serve him best.
If Leon makes the roster, and I believe that he will, deserved or not, he will likely be best suited for the third line scoring line that faces soft-minutes.
OKC Pivots:
The Barons signed center Jason Williams this past summer, but he is on an AHL deal and not a factor for NHL work at this time. Bogdan Yakimov represents the best bet moving forward, but he barely played ten minutes a night in the KHL last year, and will need some adjustment time in North America. He might get a cup of coffee, but he likely won't be ready for a full time role until fall 2015.
Jujhar Khaira is a promising prospect too, but I think his target arrival date is likely fall of 2016. He's a solid defensive prospect, but likely lacks the offense needed in this position.
The Overview:
Second line center is no doubt a hole in Edmonton, and if it is as bad as people are suggesting then it could harm their chances this winter. That being said, it isn't make a trade or bust in this spot. Edmonton has two options, one that is a long-shot and one that is a total wildcard for this coming season.
Mark Arcobello earned a shot last season with his 41 game stint in Edmonton, and likely should get the chance in this spot during training camp and in the pre-season.