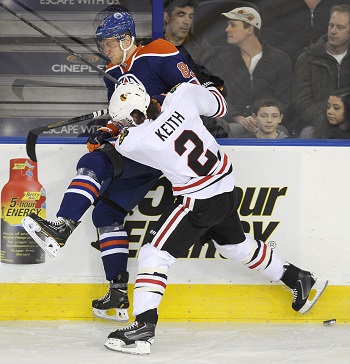 Third in the NHL in assists with 23. Twenty-third in league scoring with 24 points. Nine assists in his current seven game point streak. One of two Blackhawks to register a point in 13 of 15 November games.
Duncan Keith isn't the first name that comes to mind with regards to offensive defensemen, but his 170 shot attempts so far this season are second on the Blackhawks, only trailing forward Patrick Sharp, who has 195. Obviously not all of those shots make it to the net – Keith only has one goal this season – but there's a reason the Blackhawks have the highest goals-for average in the league. Having guys like Keith on the back end who are able to consistently put pucks on net creates more scoring chances for the other players on the ice because it opens up lanes and creates rebounds. Since the majority of goals are scored from right in front of the net, just getting the puck there is a pretty good place to start.
Keith has that under control.
Keith's longtime defensive partner Brent Seabrook has a pretty good idea of just how Keith is able to create so many scoring opportunities.
"It's his quickness, his footspeed, his instincts – he's got great instincts. And he's a great shot." Seabrook, who has combined with Keith for 40 points this season, admitted that nothing Keith does really surprises him anymore. "By moving his feet and getting into good areas, he's able to find that lane and get pucks through. And he can also get up in the play on the backside of the rush, so guys like Kane, Toews, Sharp, and Hossa can find him."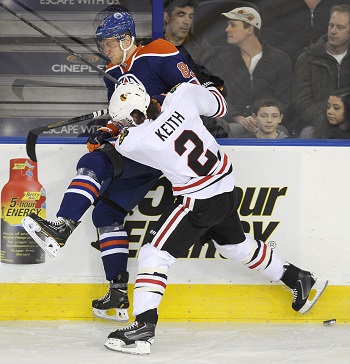 His offensive upside this season doesn't mean that Keith is neglecting his other duties. He's averaging 24 minutes per game, quarterbacking the Hawks' steadily improving power play, and has blocked 62 shots. On the Blackhawks' recent "circus trip", there were two moments in the game against Vancouver where Keith saved a potential goal against, both coming on Canucks forward Alexandre Burrows. At one point Burrows had a wide-open net, and Keith came up to knock him off the puck; another instance saw Keith poke-check the puck away from Burrows on a wraparound chance at an open corner of the Blackhawks' net.
"He plays that way every game," said goalie Corey Crawford, who was in net against Vancouver. "That's nothing new from him. He's one of the best D-men in the league. We're pretty used to that by now."
Though the team may be used to it, Keith's level of play this season has not gone unnoticed. "Recently, he's as good as I've ever seen him," said coach Joel Quenneville, who has seen Keith win the Norris Trophy. Quenneville is not one to hand out praise freely, but said that Keith's play this season has been "special", and that "He's at a different level right now."
Keith is no flash-in-the-pan rookie. Given what we've seen from him in the past, it's not a stretch to assume that he could keep playing at this level all season. If he does, not only will he be a lock for Team Canada's tough minutes in Sochi, he may be looking at another Norris Trophy in his future.