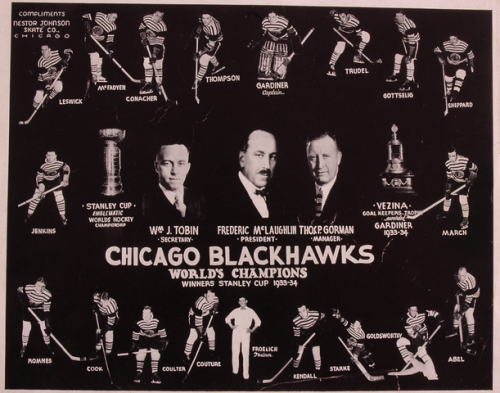 Signing an NHL contract is a dream of many. Getting the opportunity to play hockey at the professional level is a great accomplishment and accolade, so it would make sense that any new rookie given just that chance would be exstatic about the future.
Add to that enthusiasm the bragging rights that come with winning the Stanley Cup. Any rookie would be jealous.
After the Blackhawks won their first Stanley Cup in 1934, off the stick of Harold "Mush" Marsh, the team didn't have a summer of celebration the current team has had. There were no big parades, Chicago streets weren't blocked off, and there were far fewer smiles than there should be surrounding a championship team.
Chicago netminder Charlie Gardiner fought through a tonsil infection throughout the playoffs to help his team win. That summer, Gardiner would die from that infection. As tragic as that loss was, the team suffered another, less notable blow.
On that championship team was a rookie named Jack "Newsy" Leswick.
Leswick was a recognized goal-scorer in the minors, so much so that he got a call to join the NHL ranks. His rookie season was decent for a freshmen, he logged 37 games and was able to contribute 7 assists and broke his nerves by adding his first NHL goal. It wasn't the most impressive stat sheet on the team, but he did get that renewal contract for the following season. He also got his named engraved on Lord Stanley's trophy. A good year.
The following summer, Leswick went back home to Canada and traveled for a while. While spending time in Ontario in late August of 1934, Leswick disappeared.
His body was found days later and pulled from the Assiniboine River. Law Enforcement ruled the death a suicide or possibly an accident. Though, clues point elsewhere.
Leswick's gold watch that was given to him by the Blackhawks, which he was rumored to always wear, was missing. As was his car. Those close to Leswick claim that suicide is something Leswick would never attempt, and they may be correct.
Unfortunately, to this day, nobody knows for sure. But a bright star that had the potential for a great future in the NHL, and the chance to make a name for himself in the Windy City, was dimmed too quickly. His name will forever be etched in the Cup and in Blackhawk history. Both, as it should be.