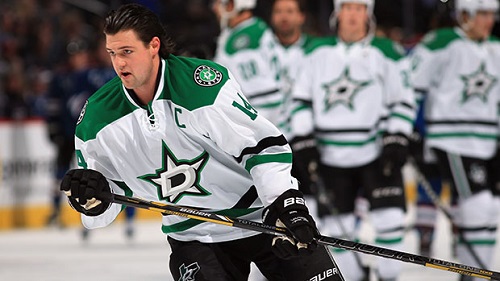 The Dallas Stars have not only come out of their most recent division game with the Minnesota Wild with yet another loss, but they may also be losing their captain, Jamie Benn, to suspension after a huge elbow on Minnesota's Matt Cooke in overtime.
The Stars played very well throughout the game, outplaying their opponents throughout, but weren't able to finish it off in overtime as Nate Prosser finished them off with a late goal. The Stars outshot the Wild by more than double and managed to get a powerplay goal, an area they have struggled with thoughout the season.
"We outworked them, outplayed them, didn't give them a lot,'' Stars head coach Lindy Ruff said. "A little bit of bad luck.''
Dallas goals were from Ryan Garbutt in the second off a rebound from a shot by Vernon Fiddler, also assisted by the Raptor Jesus and Rich Peverly as well as a third period goal from rookie forward Alex Chiasson who was assisted by Alex Goligoski and Tyler Seguin.
When asked about the loss, Alex Chiasson had a few words to say about it, stating, " It's disappointing. This was probably one of our best games defensively, as far as scoring chances given to the other team. It's just a little play there, and that's tough. We battled through and it would've been nice to get a win here."
The play that has everyone talking is the giant elbow thrown by Stars captain Jamie Benn during OT. The hit came around center ice as Benn was coming fast into the attacking zone with the puck. Cooke came in towards Benn and received the elbow to the head. There was no call for the hit as the referees declared he was acting defensively, but others are calling foul play.
When watching the replays, it could really go either way. It doesn't appear as if Benn saw Cooke coming at him, but at the same time it does appear that Benn leaned into the hit, making it look to be intentional. It is unsure at the moment what the NHL will do about this hit, possibly dishing out a fine or suspension to Benn, or declaring that he was acting defensively and did not see Matt Cooke coming at him.
You be the judge:
http://www.youtube.com/watch?v=FwLmG-S2jEg