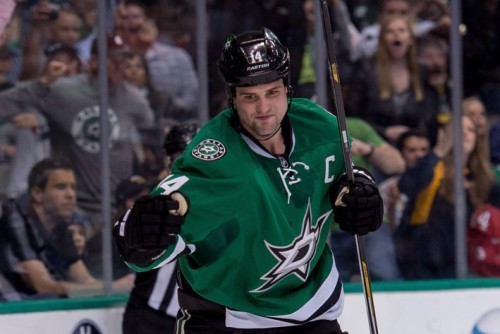 Despite winning the Art Ross Trophy in the last game of the season, things aren't all great for Dallas Stars captain Jamie Benn as it has been revealed he will be having hip surgery during the offseason.
As the season has come to a close for the Dallas Stars, who had been plagued with injuries the entire time, it was announced that Jamie Benn will be having surgery to correct a chronic hip injury that he dealt with throughout the season. This was obvious in November and December when Benn's production on the ice slowed and he seemed to be in a slump. Despite this, Benn learned to play through the pain and started climbing the ranks on the NHL top scoring list, eventually making it to number one, beating John Tavares by one point.
Let's take just a moment to talk about this. Not only did Jamie Benn outscore everyone in the league, something impressive in it's own right, but he did it while dealing with a pretty serious injury without missing even a single game or complaining. This just goes to show the passion Jamie has for his team and his sport and if you ever needed a reason why he's the captain, that's it. He led his team through injury and never gave up, even when the odds looked slim.
Stars GM Jim Nill spoke about Benn, saying, "There were a lot of nights when we thought he wouldn't be playing, but he came to us and said, 'No, I'm a player.' That's Jamie Benn. We didn't hear about it all season. That's Jamie Benn. To gut it out the way he did shows we've got a great leader on this team."
In addition to Benn, Ales Hemsky will also be having hip surgery in the offseason, bringing that to a total of four hip injuries in one season on the Dallas Stars (John Klingberg and Valeri Nichushkin also dealt with hip injuries this season). This hip injury explains why many fans were disappointed with Hemsky's play this season, which is usually based around his speed.
Benn and Hemsky are expected to be rehabbed and ready to go in time for training camp before the start of next season.
Love Reading About Hockey?

Subscribe to keep up-to-date with the latest and most interesting hockey news!
| | |
| --- | --- |
| | We hate spam just as much as you |