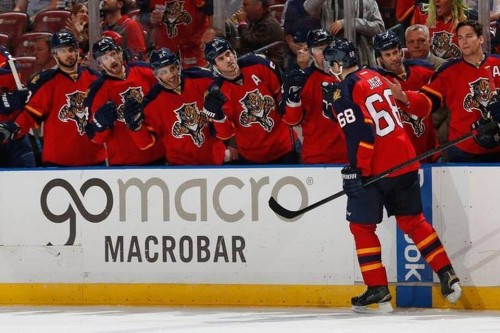 731.
Across 23 seasons spent among eight different National Hockey League franchises, Jaromir Jagr's illustrious career sparkles almost like no other. Even on the most superficial of glances, a tidal wave of stats, figures and records inundate the casual observer.
But even now, at the age of 43, the NHL's oldest star manages to add to the bevy of accolades he's accumulated to this point.
On Thursday, December 10th, the Czech Republic's favorite son laced up his skates, hitting the ice against one of his former teams, the Washington Capitals.
Flanking a forward line populated by budding young stars Jonathan Huberdeau and Aleksander Barkov–two players whose combined ages fail to pass his own–Jagr snaked along the half-boards in the Caps' offensive zone, cutting towards the net as a Huberdeau pass found Russian rearguard Dmitry Kulikov at the point.
Pivoting on his skates, Kulikov ripped a slapshot on goal, humming in high towards Philipp Grubauer's cage.
Much like he's been throughout his tenure playing at the game's highest level, Jaromir Jagr was in the right place at the right time. And with a swipe of his stick, Jagr further carved his name into the annals of hockey history.
In an instant, the flying saucer changed direction, deflected by Jagr's deft touch. What was once a shoulder-high effort on net became a hard-biting sinker, hacked underneath Grubauer's blocker-side arm and into the net for the game's first tally.
His ninth goal of the 2015-2016 campaign, Jagr's 21st point of the season moved him into a tie for fourth all-time on the NHL's goal-scoring leaderboards. Toppling yet another Hall of Famer, his 731st marker tied Canadian legend Marcel Dionne's career figure.
"I was waiting for a long time," Jagr said in a release. "I had some chances; I just couldn't score. I'm glad it's behind me. Every record looks like there's a big karma around it and it's tough to break it. It's not the first time that I was stuck on a number. It's always like that. The great players, there's great charisma and great karma around it … it's like a huge wall."
If he continues to skate at this high a level in the twilight of his career, the question isn't if that karma will break.
It's just a matter of when.