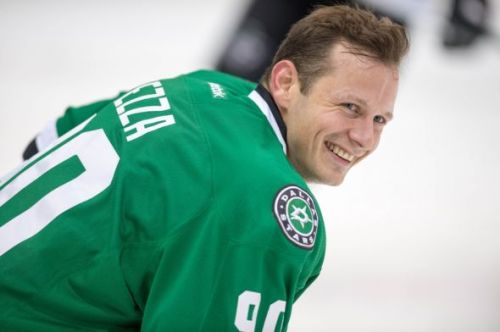 Before July 1, 2014, Jason Spezza was a big star in Ottawa, serving as the captain of the Ottawa Senators and contributing anywhere from 20-30 goals per season since his rookie 2002-03 season. All of that changed when he left the chill of the Great White North and headed south to Dallas, Texas after being traded to the Dallas Stars.
This move meant a whole new role for Spezza, joining a team made up mostly of young developing talent on the rise as well as no longer serving as a captain. Despite not having the role of captain, that doesn't mean he won't be in a position of leadership, as Jim Nill brought him on in part for that reason exactly. Spezza, 31 years old, is still a great player in his prime and will serve as a second line scoring center on the ice, possibly becoming one of the main pieces to the Stars offense, as well as being a veteran player that can provide wisdom and experience to help mentor the younger players off the ice.
"My role is a little different than it was in Ottawa, and I can just find my way here and help some young guys out. It's definitely a change, but it's something I'm embracing," Spezza said.
He donned the victory green for the Stars' first preseason game on September 22, assisting on a powerplay goal from Jordie Benn. Spezza spent the game playing on the first line, centering for Ales Hemsky and Antoine Roussel. The trio have seemed to find some strong chemistry together and worked well as a unit. Spezza and Hemsky played together while in Ottawa and have both said that they had great chemistry. Now it appears that has carried over to Dallas, with Antoine Roussel completing the line and it appears he will be stepping up and taking on a larger role this season.
"It's always great to skate with those guys and show what I can do," said Roussel after playing on the same line as Spezza and Hemsky at the Stars training camp, "Hopefully I can stick with them for a little bit longer."
Things are certainly different for Jason Spezza here in Dallas, but the change of scenery and new team seem to be things he is enjoying and will be glad to embrace as the season moves on.