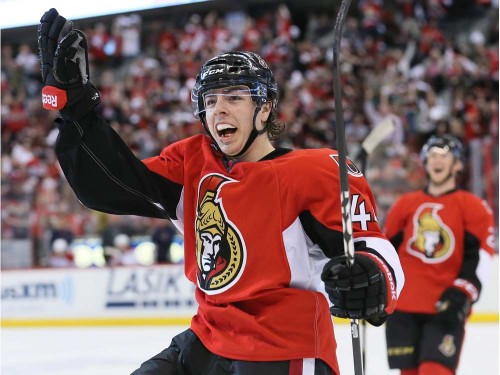 In the midst of Mike Hoffman's meteoric rise, Bobby Ryan regaining his Anaheim Ducks form and Erik Karlsson being…well, Erik Karlsson, local sparkplug Jean-Gabriel Pageau has quietly enjoyed a stellar 2015/16 season with the Ottawa Senators.
Placed comfortably on the third line – a role in which he and linemates Curtis Lazar and Erik Condra had tremendous success as Ottawa's energy unit in 2014/15 – Pageau is once again thriving. His stat line alone (seven goals, 10 points) won't blow anyone away, but those numbers put him on pace for 20 goals and 29 points, which would be career highs in each category.
More important than how often he scores is when he finds the back of the net: Three of his seven goals have either given the Sens the lead or won the game. More importantly – especially for boisterous Sens fans who enjoy mocking the signature olé, olé, olé chants that regularly emanate from the Bell Centre – two of his goals have come against the Montreal Canadiens.
Pageau's true impact, however, is felt beyond what appears in the goal and assist columns. This being only his second full regular season in the NHL, Pageau has already endeared himself to the hometown crowd for his hard-nosed, grinding style and his work on the penalty kill (oh, and there's that playoff hat-trick against the Habs three seasons ago).
Pageau has been a regular on the penalty kill this season, leading all Ottawa forwards in shorthanded ice-time with 60:06. The combination of his speed and scoring ability, along with the excessive amount of time he spends killing penalties, has paid huge dividends as Pageau leads the NHL in shorthanded goals, scoring four of them.
His physicality, as mentioned, is another of Pageau's enviable qualities. Standing just 5'10" and weighing only 180 lbs., Pageau by no means sports the typical build of a bruising forward. But his lack of size hasn't deterred Pageau from playing a physical game as he has landed 54 hits, which put him fourth on the Sens.
That Pageau has been able to enjoy the kind of success he has in 2015/16 – or at least avoid disaster – is remarkable for a few reasons. To begin with, he starts nearly three quarters of his shifts (73 per cent, worst on the team) outside the offensive zone, which puts him at a disadvantage from the outset – but would be even worse if not for his strength in the faceoff dot.
His quality of competition rating (a figure that evaluates the success of opponents based on their average relative plus minus) provides more insight into just how valuable he is to the Sens. His QoC rating of 0.083 is second highest on the team behind Lazar and suggests he is relied on heavily by Dave Cameron to shut down some of the opposition's best players on a nightly basis.
His quality of teammates figure (roughly the same as QoC, but looking instead at who someone plays with rather than against) is perhaps most astonishing. Sitting at -0.221, only Milan Michalek has a worse QoT rating on the team. Essentially, Pageau is tasked with containing the opposition while contending with linemates who, statistically speaking, can't keep up.
Despite this and other factors being stacked against him, Pageau's play hasn't suffered. Some critics would like to see more offence from him, but as long as he can continue to be effective on the PK, torment the opposition and win faceoffs with regularity, his role needs no adjustment.
*QoC, QoT and zone start stats courtesy of behindthenet.ca