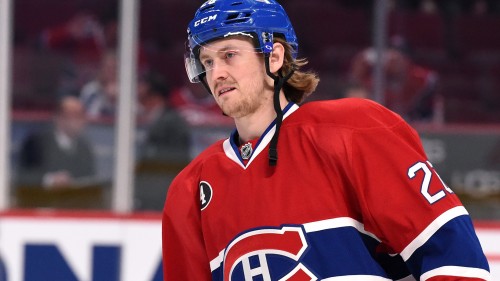 How does the saying go, one man's trash is another man's treasure? During a trade deadline where defensemen were highly sought after but few and far between, Bergevin was quietly able to acquire the undervalued Jeff Petry from Edmonton. Former Edmonton Oilers General Manager Craig MacTavish dealt defenseman Jeff Petry to the Montreal Canadiens at the 2015 trade deadline for a 2nd round pick in 2015 and a conditional 4th, which was met during the playoffs.
It's funny how these things work. I was about to write a piece on the Canadiens biggest off season priorities, and besides a scoring winger, Petry was arguably the biggest priority for the Habs this summer.
Marc Bergevin likes to strike when people least expect him too, and that's exactly what he did on Tuesday evening. The Montreal Canadiens announced the signing of defenseman Jeff Petry to a 6 year contract with an AAV of 5.5 million per year.
Petry had let it be known to the Edmonton Oilers that he wanted to use his right as an Unrestricted Free Agent this coming summer and test the market, and was thus dealt at the deadline as Edmonton sold away pieces for futures.
It should be noted that Carey Price and PK Subban, two of the players in leadership roles for the Canadiens were very open to the media in stating that they were trying to convince Petry to stay. Jeff Petry singled out Brendan Gallagher when naming leaders in the Canadiens room and this should make for an interesting off season debate in regards to whether or not a captain is named this summer.
Throughout the 2014-2015 season, Bergevin was able to get rid of Rene Bourque and Travis Moen's contracts, which ultimately added up to 5.183 million in cap space. In other words, without these cap dump deals and sly cap management by Bergevin, the Montreal Canadiens would not have been able to have fit Jeff Petry into the budget without moving a larger contract like Alexei Emelin.
So now we ask the question, is Jeff Petry's value equivalent, better, or worse than his new contract?
As a whole, hockey is now strongly looking at the advantages of strong possession players and how they directly affect the results of their teammates and team. Petry's ability to drive the play and carry the puck up the ice is one of the reasons he has so much value as a player. His agility and quick stride allow him to cover up his mistakes and also to pinch in with the rush and create odd man opportunities. Right handed defenseman are substantially more valuable in today's NHL and to slot Petry behind PK Subban allows the Canadiens to have an elite 1-2 punch on their defense for at least the next six seasons. Petry has helped burn his critics that his performance in Edmonton was for the most part a product of Edmonton's bad team and not a reason for it.
There's really no doubt in anyone's mind that with the lack of defenseman on the market in free agency, that Petry could have easily received 1 to 1.5 more million dollars per season on the open market. A key selling point for many players to re-sign in Montreal is to get a taste of playoff hockey here. The atmosphere that the crowd and city provides is unlike no other city in the National Hockey League and gives the player an experience that they often can't even put into words. Petry had this to say about the Habs organization, "The way the players are treated, the way the organization is run was a real eye-opener for me".
With the signing of Petry, the Canadiens depth chart on defense now looks as follows. Andrei Markov followed by Restricted Free Agent Nathan Beaulieu and Alexei Emelin on the left side, with Jarred Tinordi the next man up from Hamilton. On the right side, PK Subban is now followed by Jeff Petry, Tom Gilbert and Greg Pateyrn, as the Canadiens have now solidified a strong right side.
Much like Anton Stralman in Tampa Bay, Petry won't receive the praise he deserves, but that doesn't diminish the value that he provides for the Canadiens and their transition game.
The Verdict: The Canadiens locked up a number two defenseman in a market that lacks depth and star talent for less than market value. In other words, this is fantastic news for the Canadiens and their fans.