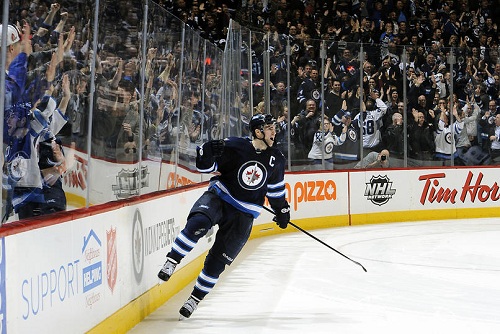 The Tampa Bay Lightning tried to be the spoilers on Tuesday night against the Winnipeg Jets.
After a four-day layoff, the Jets had fallen out of eighth place in the Eastern Conference by virtue of not being able to keep playing. A loss to the Bolts on Tuesday would have been a painful blow if it coincided with a New York Rangers win over the Philadelphia Flyers.
However, the Jets escaped 4-3 in overtime, and the Flyers won 4-2. With a game in hand for Winnipeg, the Rangers and Jets are dead even with 46 points.
The Lightning would have liked nothing more than to hurt their division rivals' playoff hopes, even just a little bit. Tampa is well out of the playoff picture, eight points back with five games to go.
They didn't do themselves any favors early on against the Jets, though, trailing 3-1 after the first two periods. The Bolts had good chances, as they hit the crossbar at least once and made goalie Ondrej Pavelec come up with some pretty impressive saves to hold the Lightning at bay.
It was Andrew Ladd (17) who scored just 1:23 into the game, beating Ben Bishop through his pads. Tampa tied it at 10:27 when Martin St. Louis (12) picked up an errant Winnipeg pass to score on Pavelec, who was starting for the 19th time in Winnipeg's last 20 games.
Blake Wheeler (16) and Ladd (18) were the only two to score in the second period, Ladd on a power play. Bishop, starting his first game since signing a two-year extension with the Lightning on Monday, stopped 21 of 24 shots through the first two periods before stopping the final 12 shots he faced.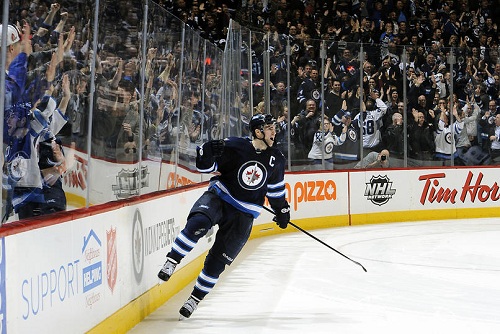 The two goals he allowed in the shootout to Ladd and Mike Santorelli also proved to be decisive. Tampa Bay seemed to put their faith in him by signing a two-year extension, and it should be interesting to see how the 26-year-old develops throughout the offseason and into next season.
Pierre-Cedric Labrie (2) and Steven Stamkos (27) scored in the third to tie the game and force overtime, but the Lightning just didn't have enough in the tank to steal a road victory from Winnipeg.
In other important news, Stamkos' goal pulled him back within one of Washington's Alex Ovechkin, who also scored on Tuesday night. And with Sidney Crosby still out of commission for Pittsburgh, Stamkos and St. Louis each moved to within three points of the NHL points lead.
Tampa Bay has two things to play for from now on: To play spoiler for potential playoff teams and to see if Stamkos or St. Louis can win either the goals of points race (or both in the case of Stamkos).
But for a hockey fan, it's still good old-fashioned hockey, and this is the closest thing any fan will see to Lightning playoff hockey this season, so they might as well enjoy it.
With only five games remaining, the Bolts will head out for the final game of a four-game road trip on Thursday night against the Montreal Canadiens. The game will start at 7:30 p.m. ET.
Winnipeg will continue its playoff push on Thursday night when they host the Carolina Hurricanes in the fifth game of a six-game home stand. The puck will drop at 7 p.m. ET.
Will Winnipeg make the playoffs? Will Stamkos or St. Louis have a reason to attend the NHL Awards this summer? Stay tuned to find out.