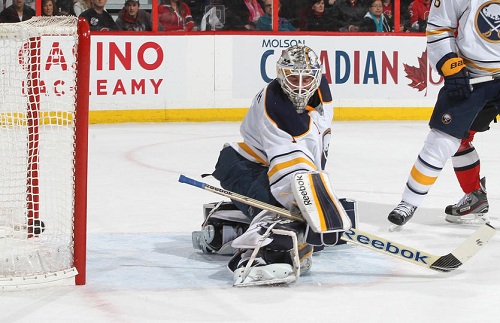 Jhonas Enroth made his second start of the season and continued his shaky play as Sabres fell one goal short from coming back from being down three and lost to the Senators 4-3.
Erik Karlsson started things off for the Ottawa Senators by scoring a power play goal 8:15 into the game. Sabres weren't down for long. Twenty one seconds later, Drew Stafford took a shot and Tyler Ennis made no mistake jamming the rebound home to tie up the game.
The Senators regained their lead as Chris Phillips fired a shot from the point and the puck snuck through the backside of Enroth's pad and dribbled across the goal line. Daniel Alfredsson concluded the first period by scoring from the slot at 14:15, while Jordan Leopold aimlessly looked around and did nothing.
Ottawa increased their lead to 4-1 at 8:12 in the second after Chris Neil found his way onto the ice untouched, slipped past defenseman Adam Pardy and knocked the puck in.
Buffalo quickly responded 57 seconds later as Leopold tipped the puck in off a pass from Jochen Hecht. Jason Pominville was credited with a goal with 6:05 left in the third after it was reviewed that his skate did not kick the puck into the net.
This rebound proved to not be enough for the Sabres, as the Senators held them off for the remaining six minutes of play.
Enroth allowed three goals in six minutes during the first period and finished the night stopping 20 out of 24 shots with a .833 saving percentage. He has not won a game in over 15 months.
"I still think I can play in this league," Enroth said. "I still think I can play very well. I know I had a couple games at the end of last year that I played very well, so I'm still trusting myself.
The Sabres had four power play chances. One of which was based off a new rule that has been added by the NHL this year. Zack Smith was given two minutes in the first period for closing his hand on the puck. Buffalo was 0 of 4 on the power play tonight.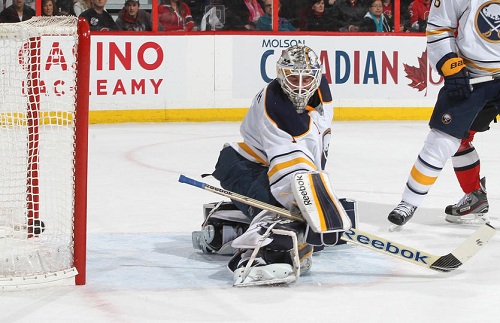 This now marks three straight losses after a big 7-4 win at the TD Garden. The Sabres are now 3-6-1.
The Buffalo Sabres head back to First Niagara Center to face off against the Montreal Canadiens on Thursday.
Three star selections:
1. Daniel Alfredsson
2. Erik Karlsson
3. Kyle Turris
NOTES:
• With Christian Ehrhoff out, Leopold led with 23:21 TOI.
• Senators edged Buffalo in:
Shots on goal 24-23
Face-offs 52-15
• Senators goalie Chris Anderson allowed his first goal beyond the first period this season in tonight's game. (Congratulations Sabres.)
• Mike Weber finished +2
• "Hottest player in the NHL" Thomas Vanek had just one shot on goal.  This was the first time he did not record a point in his last ten games.
OLGA'S THOUGHTS:
Myers
With all the criticism that Tyler Myers has been getting about his poor play, it seemed like he was far more comfortable playing with Pardy. Is this a reason to keep Pardy in the lineup AND separate Myers-Leopold? For now – yes!
TJ Brennan
Meet me at target practice tomorrow at noon on court 4.
Love Reading About Hockey?

Subscribe to keep up-to-date with the latest and most interesting hockey news!
| | |
| --- | --- |
| | We hate spam just as much as you |