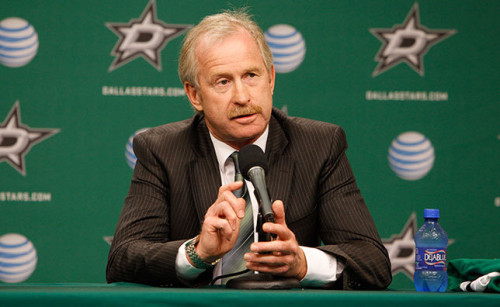 With the new year comes yet another great move by the Dallas Stars front office, as they have announced that General Manager Jim Nill has signed a five year contract extension.
Since joining the Stars organization in July of 2013, Nill has made what seems like nothing but great moves, compiling a roster that now includes the likes of big-name players such as Tyler Seguin, Jason Spezza, Johnny Oduya, Antti Niemi, and Patrick Sharp, just to name a few.
"We got a great staff here," said Nill. "We're in a good spot right now. We want to keep it strong. I think anything you do in life, I think [you want] consistency, knowing that there's a base there, your base or your foundation's very important. You look at successful organizations, that's how they operate and that's what we're getting to."
When Nill took the reigns, the Stars were struggling, having missed the playoffs for five straight years and in desperate need of a rejuvenation. That is exactly what happened with the signing of Nill, who immediately made a blockbuster trade that saw Tyler Seguin and Rich Peverley being traded from the Boston Bruins on the 4th of July. From there he continued making seemingly genius moves, using patience and perfect timing to acquire exactly who he needed to fit into his puzzle.
So far Nill has made nothing but great moves, and it shows, as they broke their playoff drought in 2014, and are currently leading their conference. Since Nill's arrival in Dallas, the Stars are 110-72-5.
"He's done a terrific job. I can't tell you how impressed I am. Nothing ceases to amaze me after 30 years in the business, and Jim Nill is as good as I have ever worked with," Stars president Jim Lites said. "And I have worked with great general managers in Detroit and here in Dallas."
From his peers, to the fans, and the players as well, it seems as though Nill has the respect and trust of everyone around him.
"I think it's obviously well-deserved," Tyler Seguin said of Nill. "I think he's so involved with everyone, with everyone's family and everyone's wives. He's an ultimate guy and the ultimate GM, so obviously happy he's going to be here for a while."