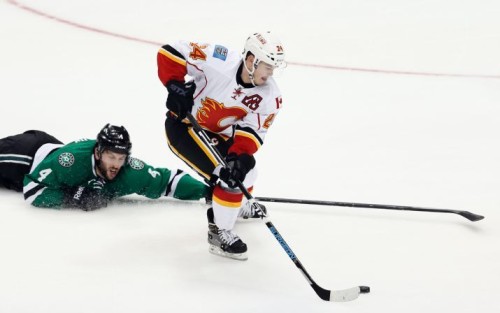 On a team lined with youth up and down the lineup, it's the quasi elder statesman who has been leading the charge for the Calgary Flames for some time now.
Going into the most pivotal month of the season for the Flames, someone – likely a veteran – was going to have to step in to the leadership role vacated as a result of Mark Giordano's injury. With long-serving Flame Curtis Glencross's departure imminent, 31-year-old Jiri Hudler seemed to be best suited for the job.
That the Flames were able to remain entrenched in a heated playoff race without their captain is no doubt a result of Hudler's offensive surge. Coming off a relatively mild February – just seven points in the month – Hudler opened March on a six-game, 12-point streak.
So good was Hudler in March that in only three games did he fail to register at least a point (including two consecutive games). But he wasn't off the score sheet for long, going on a four-game point streak (six points) immediately following his mini two-game drought.
He then closed out the month in style, picking up a combined five points in back-to-back nights against the Nashville Predators and Dallas Stars. All in all Hudler finished with 21 points in 15 March games, picking up points in six of the team's final seven games, helping Calgary to a 9-3-3 record in that span.
But Hudler's success was not only enjoyed individually. Rather, his linemates, Sean Monahan and Johnny Gaudreau, each shared in the pleasure that is playing with a teammate on a tear. The young duo shared in Hudler's success, each registering 15 points in the month.
Monahan, who was the team's long-time leader in goals, saw himself pull into a tie with Hudler at 29 goals by the end of the month, after the younger Monahan potted another seven in March. Gaudreau, meanwhile, was able to keep pace with Nashville's Filip Forsberg for the rookie scoring lead, actually jumping ahead of the young Swede by a point, sitting at 60.
Most importantly, though, is the fact the Flames have given themselves a cushion in the standings – though a very slight one at that. The Los Angeles Kings are the only legitimate threat to the Flames' Pacific Division playoff hopes, currently sitting three points back of Calgary with a game in hand.
With five games remaining in Calgary's season, the next three will be of added significance, given they can put even more distance between the Kings and themselves. Given that Calgary's second to last game of the season comes against the Kings, clinching a post-season berth by that date – or at least being in a strong position to do so – should be of paramount importance.
Though it's tough to say with certainty what will happen in these next two weeks, one thing is for sure: if things keep going the way they have, it should be a wild finish in the Pacific.