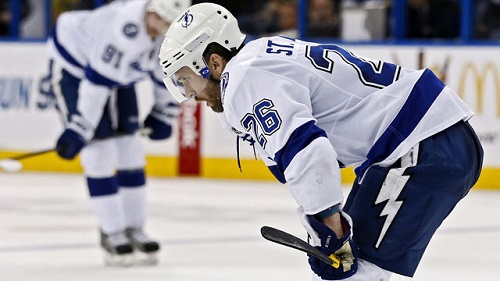 It all seemed so petty.
After everything Martin St. Louis had done for the Tampa Bay Lightning and everything the organization had done for him, it seemed that a minor rift with general manager Steve Yzerman surely wouldn't bring the entire relationship crashing down. Sure, Yzerman, who also served as Team Canada's executive director for the Sochi Olympics, initially left St. Louis off the Canadian roster*, but St. Louis joined the team and won gold anyway.
*Two important footnotes here: 1) It should be noted that the team Yzerman put together went on to win the gold medal in Sochi. 2) Everyone and their mother knew that St. Louis deserved to be on Team Canada, so it wasn't quite "St. Louis against the world" after he was snubbed.
But the divide between player and GM was clearly deeper than anyone let on. A marriage doesn't end after one fight.
St. Louis was dealt to the New York Rangers Wednesday morning for captain Ryan Callahan and a first- (2015) and second-round pick* (2014).
*If the Rangers make the conference finals this season, the 2014 pick also becomes a first-rounder.
Hopefully, now that the deal is done and St. Louis is gone, we'll learn what really happened between the Lightning's top scorer and its GM.
As for the trade, it is tough to say which side will come out on top.*
*For Lightning fans, this is like the New York Yankees trading Derek Jeter or the San Antonio Spurs trading Tim Duncan. It seemed like something that would never, ever happen.
The Rangers lose their 28-year-old captain and two high draft picks for a year and a half's service from a 38-year-old. They must think their window is closing and that this year or next is the time to make a run.
The Lightning lose one of the most loved and popular players in the organization's history (less than a year after losing beloved captain Vincent Lecavalier) and are left with about 20 games to try to incorporate Callahan into their system.
And if you look at Callahan's stats, he really seems to be a poor-man's Teddy Purcell* (at least offensively). Plus, his contract is up at the end of this season, and it seems unlikely the Lightning would re-sign him.**
*Correct me if I'm wrong here, Rangers fans (and feel free to chime in in the comments), because maybe Callahan really stands up well to the eye test and is a stud defensively. I just haven't watched him play often and defensive stats aren't readily available.
**Correct me if I'm wrong again, but this is a Tampa team that let its captain and most popular player in franchise history (Lecavalier) leave over money issues. I doubt they'll re-sign Callahan for what he's asking unless he really proves himself down the stretch. Surely there's a good reason the Rangers didn't want to up Callahan themselves.
This trade hurts because it seems like the Lightning are simply continuing their endless march toward the future rather than focusing on the present, during one of the best seasons the team has ever had. It also darkly overshadows the news that Steven Stamkos is planning to return Thursday against the Buffalo Sabres. Now, all anyone will be talking about is St. Louis.
And it stings because I never really convinced myself that the Lightning would actually deal St. Louis. I never really thought that Tuesday night's 4-2 loss to the St. Louis Blues would be the last time I ever got to see Martin St. Louis play in a Bolts uniform.
As sports fans, we become attached to certain people who's grit and determination garners our respect and adoration. But sometimes we forget, it's all just business. And sometimes, how we feel doesn't matter.
Sometimes, what feels wrong is what happens.
Goodbye, Marty.