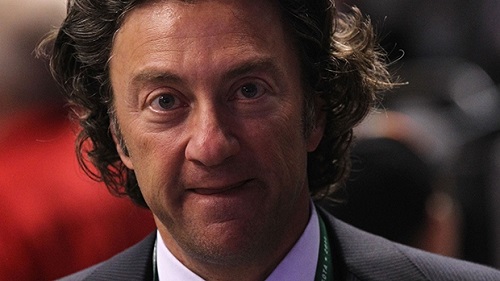 Okay, so, about Edmonton Oilers owner Daryl Katz's letter. I'm sure every Oilers fan has seen it, but here it is for anyone who hasn't and wishes to peruse this great literary masterpiece, here's your chance:
To Oilers Fans Everywhere:
We all thought this was going to be the year the Oilers turned the corner. Obviously, that hasn't happened, and it hurts. It's frustrating – for all of us. For our fans, for our players and staff, and for everyone in our community who shares a common bond around a game, a team and a city that we love.
I know this will almost certainly be the eighth consecutive year since we made the playoffs. I hate that fact as much as anyone, but the reality is that this is only year four of the rebuild that started when we drafted Taylor Hall. The good news, if you can call it that, is that other teams that committed to fundamental rebuilds went through the same kind of droughts over the same kind of time frames, or longer. That doesn't make it fun for anyone; it just means we have to stay the course.
Yes, we hoped and expected to be better this year – there's no question about that. But we've also been more active than any team I can think of in rebuilding our organization from bottom to top by supporting player development in OKC and Bakersfield, revamping our scouting organization, naming a new GM and a new coach, signing free agents like Justin Schultz, Boyd Gordon, Andrew Ference, Anton Belov and Ilya Bryzgalov, and trading for players like David Perron, and now Ben Scrivens and Matt Hendricks. And we're not done.
But I can also tell you that we are not going to sacrifice the future by doing something short-term. Those days are over and they're not coming back. If we're going to rebuild, we want to do it right and we only want to do it once.
I hear a lot from fans about accountability, so let's be clear. We are all accountable. That includes me, Kevin, Craig, Dallas, every player who wears our jersey, and every member of our staff. I know Kevin is the target of a lot of personal attacks right now, and that's really unfortunate. Kevin is a big part of our organization, and it's not just the Oilers that value his knowledge and perspective. He is consistently chosen, year after year, to play a leadership role with Hockey Canada. But when it comes down to it, this is Craig MacTavish's team. He is the GM. He makes the calls, and he is accountable for building a team that can compete for the Stanley Cup — year in and year out for years to come.
That's our vision. We are committed to it — and we're confident that we are on the right track.
Our fans have been incredibly patient and supportive. At the same time, we know there's a lot of frustration and we are asking you to hang in there while we fight through this and put the next few pieces of the team in place.
I'll tell you this, despite everything, we all wear our Oilers colours with the same pride now as we ever have, and as we will when we're back on top. We hope you'll do the same.
We value our fans, we hear you, and we appreciate your support.
Daryl Katz
(Ugh.)
I'm not going to subject anyone to my play-by-play commentary on the letter, or even the various facial expressions I made when reading it. But I just think the letter is so tremendously ineffectual. The entire thing can be summed up in information that all Oilers fans already know (yes, it's been awhile since we made the playoffs, thanks for that salt in our wound) and abstract statements. "Just wait, we're doing stuff, it's going to be good," it essentially reads.
I understand the impulse to write a letter like this to the fans – as he says, they are frustrated. The jersey-tossing incident that sparked so much controversy earlier in the season demonstrates this perfectly. But fans are not stupid, and they don't have the patience to read something that doesn't set out any concrete plans. He makes vague gestures to the rebuilding that fans have been talking about and speculating on the future impact of for years. Four years, as he so helpfully reminds us. He notes some of the team's recent acquired players, but that's basically it. He doesn't give any specifics about what is going to be different, what they hope to achieve, what they tried to do that perhaps didn't work out. All he gives is a painful reminder that, yeah, it's going to be eight years in a row since we've made the playoffs. Thanks, Dar. And I'm sure Craig is really happy that you essentially pointed the finger of blame at him.
The overall tone doesn't read like a strong voice discussing the team – it reads like a schoolgirl's note, pleading 'no, wait, like me! Please! Sorry!' If you're going to acknowledge that fans aren't happy, and are going to ask them to keep rooting for the team, at least give them something to go on besides 'that's our vision.'
…what? What's the vision? A rebuild? A team that can compete in the Stanley Cup for years? How are you going to achieve the vision? The letter really doesn't say anything.
I don't know what he was trying to achieve with the letter, and I can't speak for the response of every fan. Perhaps some people read it and were completely touched that he'd deign to take the time to write it. But I am not those people, and I'm interested in seeing how others felt about it.