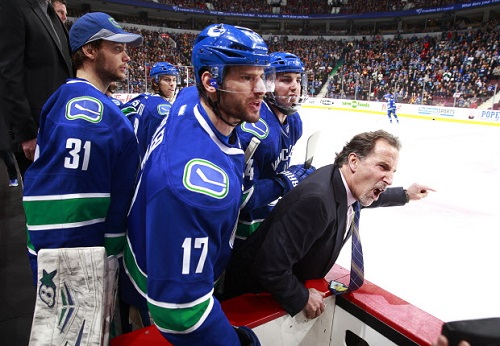 If you told me in the 2010-2011 season that Mike Gillis could potentially trade away Ryan Kesler, I would've thought you were a crazy person from a psych ward. Fast forward to this season, and I am not so opposed to it. Why? Well look at the team. It's a mess. They're not doing so well and looking like they could miss the playoffs for the first time in over 5 years. Before I continue on this article, I understand that he's denied reports of wanting out of Vancouver; I'm just giving my own opinion if he does get traded.
Out of all the players why Kesler you ask? Well it's quite simple; he's the only player on the team where you can actually get some good assets in return for him. The Canucks may not win the trade, but you still would get someone back valuable that could help the team for the future. Some people are completely opposed to this trade and I understand why, some believe he's a leader on the ice and have been one of the best players on the team next to Roberto Luongo this season. This may be true, but he's truthfully only had one good season that led him to a Selke trophy in 2011. Other than his one good season, he's had some average years from what is expected of him on the ice.
Like I said earlier in this article, the necessity of trading him now compared to a in a few years is a big MUST. You won't get any good assets in return for Kesler when he's 32 or 33. The Canucks reportedly want a 1A Centre or 2B Centre in his mid-20s for Kesler. This totally makes sense. This team is beginning rebuild mode and they need to make a big shake-up to the team so they can improve for the future. They can't unfortunately stick with all these players they have now who have played for this Organization for so long, sometimes you have to move on, and Kesler is one of them.
The downfall if Kesler was traded, some teams may look at his injuries as a reason why they shouldn't offer more. He's literally a walking glass jar. Teams could become afraid to take him and his 5 million dollar contract on if he consistently sustains major injuries
Although reports are saying he won't be moved anytime soon, I feel like if Gillis gets a deal that he likes by Wednesday's deadline, and Kesler agrees to waive his No Trade Clause, Kesler could be gone. The Canucks are expected to make two big moves by the Draft in June, and one of them I expect to be Kesler.