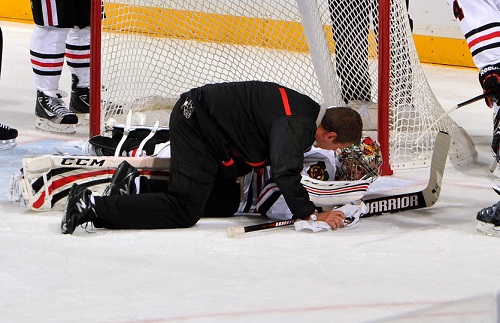 Stanley Cup winning teams are built on the shoulders of great goaltenders. Chicago's two recent Stanley Cup victories have proven that with stellar performances from both Antti Niemi and Corey Crawford.
Crawford is still on Chicago's roster and now that he has his 100th win under his belt and a ring on his finger, he can't be questioned as an elite NHL goaltender. Though, worries still circle Chicago's netminders.
Nikolai Khabibulin was once a top performer but it's apparent that his career is nearing the light at the end of the tunnel. Khabibulin's save percentage is .811 among goalies with over 100 minutes so far this season. That puts him at last in the NHL. A less than amazing 5.00 GAA doubles all other Chicago goaltenders.
But that's when he's on the ice. Khabibulin has struggled through injuries throughout his career but his game against the Nashville Predators is the fresh wounds. He was hurt during the game after allowing two goals on eight shots. While playing for the Edmonton Oilers, he missed just under one-third of a season due to injuries. From 2005-2009 he was the most injury prone goaltender in the NHL.
There have been 36 goaltenders who have played 200 or more games since the 2004-2005 lockout. Only four of those goalies have a lower save percentage than Khabibulin. None of them are still active in the NHL.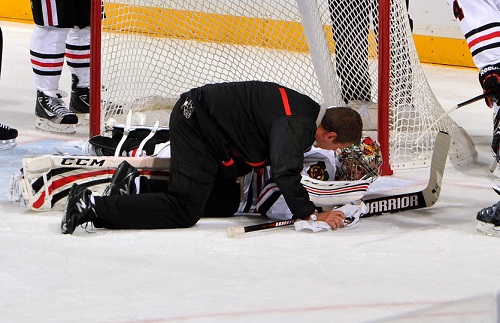 Exactly why General Manager Stan Bowman decided to bring Khabibulin back to Chicago for another season isn't clear. His $1.7 million contract seemed to come out of nowhere and stunned Blackhawk fans. As for the rest of the season, the Blackhawks are stuck with him.
Crawford has already stolen the starter slot, and Antti Raanta is performing well after being called up to the show from the Rockford IceHogs. If Crawford can maintain his play and Raanta can get comfortable in his new job, there won't be room left for the veteran Khabibulin.
That's exactly where the road is heading. Don't expect Khabibulin back in Chicago next season.