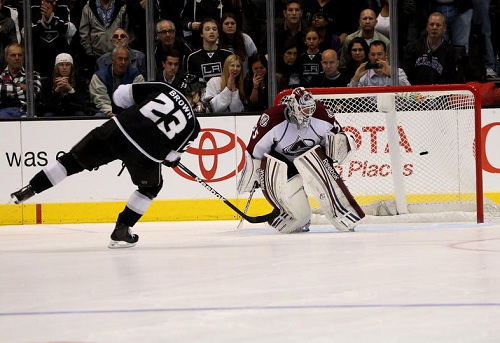 Some teams are playoff teams. Last year, the Kings were without a doubt in those ranks. In fact, they were the penultimate playoff team, breaking all sorts of records, such as becoming the first eighth-seeded team to win a Stanley Cup, which they achieved by becoming the first eighth-seeded team to beat a first-, second-, and third-seeded team. They became the first NHL team to win the first nine road games in the postseason. The list goes on.
But who can forget how they nearly gave up their playoff spot? They were on the cusp of winning the division title and threw that away with a lack of focus and an influx of sloppy play.
They have looked terrible these past couple of games. Maybe this is just a case of history repeating itself, another case of underwhelming regular season play, which will be followed by dominant, commanding postseason upsets.
On Tuesday night, the Kings played the Stars. The game was tied 1-1 going into the third period. From there, things went from mediocre to outright pathetic, as Los Angeles allowed four unanswered goals, to lose the game 5-1.
Thursday night, they went against the Colorado Avalanche. They had numerous power play opportunities throughout the first period. Jeff Carter and Mike Richards earned the Kings a two-goal lead, but the Kings could not hang onto that lead and let regulation end in a tie. They made it to a shootout, and unbelievably (for them), they won when Carter, Dustin Brown, and Anze Kopitar all scored, while Jonathan Quick was able to make a save on the first shot. If the Kings were playing against a better team, it would be understandable. However, the Colorado team has been negotiating with the Florida Panthers for the lowest rank in the league.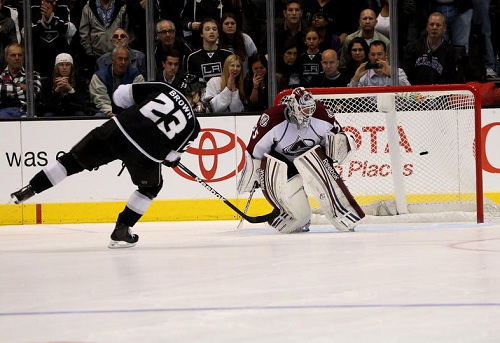 The Kings opened the 2013 season poorly but eventually started to look like Cup contenders. Now they have taken a step back. Their win against the Avalanche earned them two points, but it was an ugly win (even if it ended in a beautiful shootout). While the success that night may have boosted team morale, the Kings better figure out where their storehouse of energy and efficiency is because I, for one, want to see a second banner raised in the Staples Center. I'm sure the Lakers can make room for another Los Angeles title. Their time is up; it's time for the Kings to reign.
Then again, I'm biased. I'm an LA girl that wants to see the LA Kings go far. I just hope the Kings can clinch their playoff spot and do it a little more prettily than last year.
Tonight is Southern California rivalry night, as the Kings will host the division-leading Anaheim Ducks. Let's see if they can look a little more put together.