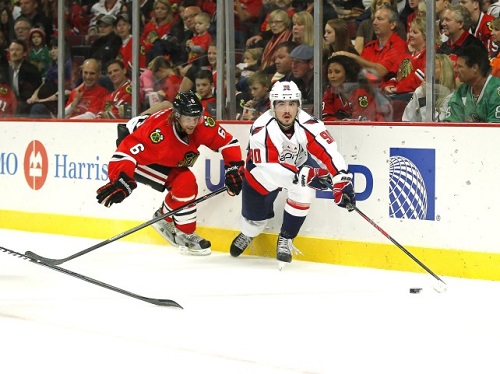 It was announced Wednesday that the Blackhawks will be without defenseman Michael Kostka for the next 4-6 weeks after he sustained a lower-body injury during practice Tuesday. Kostka, a scheduled healthy scratch for that evening, was practicing with the other players getting extra work when the injury occurred. There is currently no clear information on what happened to Kostka; coach Joel Quenneville only said "the extra guys were skating out there (on Tuesday) and he got hit." The news is disappointing, as Kostka has a goal in two games (the first of his NHL career) and has played a solid game since making the team out of training camp.
Someone who may not be disappointed, though, is Sheldon Brookbank. Quenneville has noted that the team will not be recalling anyone before the Blackhawks' game against the Tampa Bay Lightning Thursday, which indicates that either Brookbank or Rozsival will draw in, though Quenneville would not specify which player. Brookbank is coming off of a strong game against the Florida Panthers, however, which could make a good case for him to be on that third pairing against Tampa.
Tampa Bay has already faced the past four Cup winners (Chicago, Los Angeles, Boston, and Pittsburgh), and has a 5-3-0 record to start the season – certainly nothing to sneeze at. Their top offensive weapons, Steven Stamkos and Martin St. Louis, are currently standing at 10 points each. This is not a team that Chicago can afford to take lightly – particularly with their recent third period woes. The Blackhawks have developed a troubling habit of building a two-goal lead and then sitting back on their heels, and the team knows they need to begin generating offense in those last twenty minutes, because if they don't, their opponent will.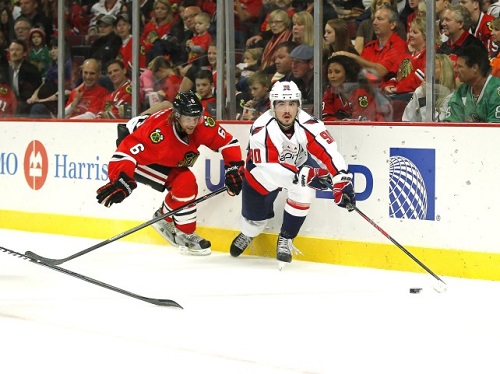 Something that may help the Hawks to get those third period goals is the split of the Bickell-Toews-Kane line. Quenneville has mentioned more than once that he likes having Toews and Kane on separate lines because it makes the other team decide who they want to check, and I'm sure having two separate lines generating the kind of offense Kane and Toews are known for doesn't hurt. As for Bickell, he is back on the third line with Marcus Kruger and Andrew Shaw, and he couldn't be happier.
"Before (on the top line), I was just trying to get them the puck and just get to the front of the net and not using my strengths," he said Wednesday. "But playing with Shaw and Krugs, they find me and drive the net. All I need to do is get to the net and hopefully things go."
And hopefully for the Blackhawks, they go in the final twenty.