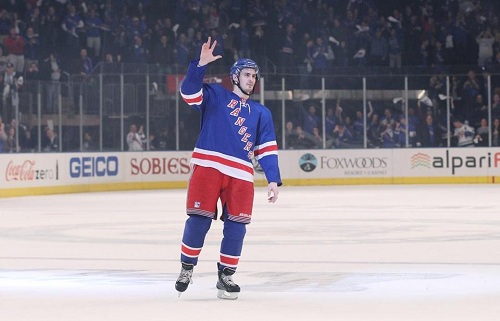 The NHL lockout proves to be a good thing for one of BC's own
BOSTON— As the rest of his team members were comparing victory dances after winning the National Championship title, Chris Kreider was in his coach's office making one of the biggest decisions of his life.
Just days shy of his 21st birthday, Kreider signed a three-year entry-level contract with the New York Rangers on April 10, 2012. Even though the NHL was suffering through a lockout this season, Kreider never regretted his decision to leave Boston College.
The Boxford, Mass., native spent 2009-10 to 2011-12 at BC. In that time, he won three Hockey East tournament titles, three Beanpot titles, two National Championships and a gold medal from World Junior Championships.
He also nabbed Hockey East Rookie-of-the-Week, Beanpot's Most Valuable Player and he made the Hockey East All-Rookie team his freshman year.
Kreider's elite speed on ice allows him to fly up and down the ice effortlessly and has had him on NHL scouts' radars since his high school days at Phillips Academy and Masconomet Regional.
He uses his explosive power and quick hands to break away from the defense and create one scoring opportunity after another. Kreider finished with 92 points in his 114 career college games.
"My decision to go to college in the first place was built largely on my desire to earn my college degree and get an education," he said. "This was very important to both my family and me."
Andrew Orpik,a former BC hockey player, had similar thoughts during his time at Boston College and chose to stay all four years before turning pro.
"The degree is the biggest part," Orpik said. "Hockey ends at some point for everyone and if it's at 35 and you have a kid and a wife, it becomes much harder to find a good job to support your family without a degree."
Kreider declined opportunities to leave after his freshman and sophomore year in hopes of giving himself a greater chance to earn his degree.
He completed all of his major requirements and is merely four courses away from graduating.
Not fazed by the pressures he faced from the Rangers, who wanted him to turn pro as soon as possible, Kreider turned to his family and his coaches at BC for guidance.
"Coach (Jerry) York has an amazing track record with developing NHL players and is known for being honest with a player as to whether he is or is not ready to make the next step," he said.
York credited Kreider's size, strength, and his hockey IQ as the main reasons for his readiness to jump into the NHL. His ability to perform well under pressure was another factor.
York told Nancy Marrapese-Burrell from the Boston Globe, "When there's a trophy on the line, when it's something really important, he seems to have the ability to raise the level of his play and he's done it repeatedly."
Pat Mullane, a former teammate and current captain of the BC hockey team, agreed with York and described Kreider as having an NHL body, shot and speed.
"Obviously we would like to have him on our team this year, but I think he was mature enough, both physically and mentally, to make that jump to the next level as seen by his play in the playoffs at the end of last season," Mullane said.
Kreider made an instant impact on the big stage as he broke a 59-year-old NHL record by scoring five playoff goals before having played in a regular season game. He also became the first player in NHL history whose first two NHL goals were playoff game-winners.
Ranger, Dan Girardi, told Filip Bondy of the New York Daily News, "I knew a little about him, but I didn't know he was built like a Mack truck and could skate like the wind."
At 6-foot-3 and 225 pounds Kreider plays as big as he looks. He isn't afraid of playing a physical game and often uses that to ignite a spark if he's not playing his best.
Kreider accumulated 129 penalty minutes in his three years at BC.
In late October, he was suspended one game by the AHL, after receiving a five-minute major for boarding. This penalty was accompanied by a game misconduct for an illegal hit-from-behind to Norfolk Admirals forward Brandon McMillan.
Brendan Mahoney, one of Kreider's college roommates, said he placed an adamant effort on bulking up through nutrition.
"He just ate all the time," Mahoney said. "An absurd amount of food that he never seemed to chew. A lot of yogurt, chicken and sushi."
On top of his diet, Kreider was very specific about his bedtime. Mahoney said he would not take a bribe if it meant missing his allotted sleep time.
"All kidding aside, Chris took hockey more seriously than I've ever seen anyone take anything," Mahoney said. "It was outstanding to witness his relentless commitment."
In just short of two months, Kreider led his team to its second NCAA title in three years and made his NHL debut in Game 3 of the Eastern Conference quarterfinals. In New York, he immediately became an offensive threat and won the hearts of many hard-to-please Madison Square Garden fans.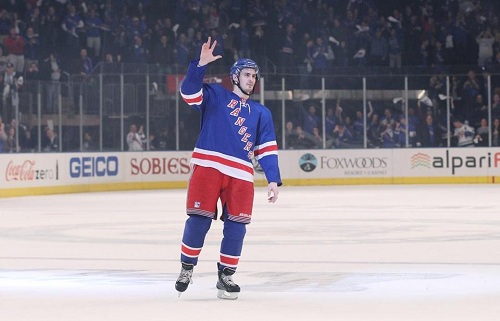 Then news of the NHL lockout struck.
Some players sulked and panicked during the lockout and looked for other places to play to make a living to support their families. Kreider was blessed with being an NHL rookie and having the ability to play for the Rangers' AHL affiliate, the Connecticut Whale.
"If anything, the lockout has given me an amazing opportunity to progress and grow as a hockey player," he said.
Mullane agreed.
"I think it is a blessing in disguise that he is able to experience the AHL and grow in the minors whereas if there wasn't a lockout, I am not sure Chris would have experienced that and would have been thrown right into the fire of the NHL," Mullane said.
Yuri Khmylev, current scout and former player for the Buffalo Sabres thought the minors would make for a smoother transition and the extra time on ice that he would get there would benefit him in the long run.
"I played in both leagues so I know what they're all about," Khmylev said. "Physically, he's as strong as anyone right now, but mentally he will grow significantly faster with some time in the AHL."
It is often said that the AHL is actually a more difficult league than the NHL in terms of the strenuous travel, greater physicality on ice, less structure in the game, and less recovery in between games. Kreider thinks that if he learns to play at this level, the next step won't be as difficult.
The biggest adjustment for Kreider, coming from training at BC to training with the Whale, has been the sheer volume of skating. The college hockey schedule is fairly consistent with games played on Fridays and Saturdays. The AHL has a training camp leading up to the season, three to five games a week and additional pre-game skates on game days.
"You can play three games in three nights in three different cities," Orpik said. "You really need to learn how to take care of your body so that you're as prepared as you can be each and every night."
Kreider said that the Whale coaching staff has made the transition easier by continuously working with him on and off the ice. Defense is one of the areas he's been working on.
"If you can't be defensively responsible, a coach cannot put you on the ice," he said.
Lockout or no lockout, Kreider knows that leaving BC after his junior year was the right decision. He considers himself in the best place now to continue progressing and improving.
There is very little that he won't miss about BC.
"I miss the guys on the team, the way the team is run, the coaches, the staff, and all the friends I had made in and out of the athletic realm," Kreider said.
While he is working on winning his next piece of hardware – the Calder Cup, he said he would always follow BC hockey.
"Once an Eagle, always an Eagle," Kreider said.