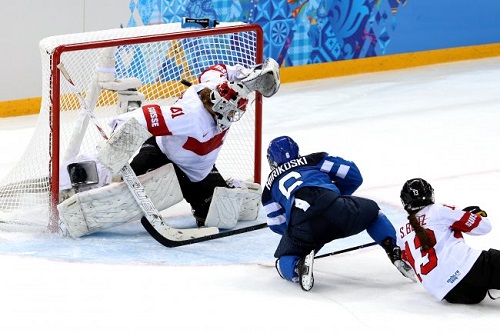 In what was supposed to be a very tight defensive battle, Switzerland took on Finland, Wednesday, continuing group play. In previous games this Olympics the two teams had not seen much offensive production, combining for only one goal in their previous 4 games. Comparatively this was a "barn burner" as they say, with each team scoring three goals in regulation.
These two teams could not be more different. The Finns are a model of team chemistry and longevity, as many of their players are multi-Olympic athletes. Additionally, they prepared together for much longer than the Swiss team who had only been together for 40 days prior to the games this year. Despite the lack of experience together, the Swiss team has played surprisingly well at times. For example before the game against the United States got out of hand, there was almost a full period of back and forth, tight hockey. The team seems to have a spirit about them which cannot be crushed, which is an important trait for a young team to have when going up against monsters like the US and Canada.
The game was very back and forth, with the Finns taking an early lead only 8 minutes into the game when Jenni Hirrikoski netted Finland's second goal of the tournament. The lead was doubled just before the end of the first period when Michele Karvinen buried a beautiful pass from Susanna Tapani. It was in the second period that Switzerland finally got their first goal of the Olympics from Ronny Eggimann. The Swiss didn't give up, eventualy tying the game not only at two goals apiece, but again when they went down 3-2 on a Finnish power play goal. The teams went to overtime where Switzerland's chances started to momentarily look real against Team Finland. Unfortunately for the Swiss, their 3 goal effort wasn't enough as Finland's captain, Hirikoski, made a beautiful diving tip into the top corner of the net to win the game.
Although it was expected that the Swiss would match up against the immense talent that is group A, in my opinion they did exceed expectations. Although the results of the game may say otherwise, it is important to note that the mental stamina and heart of a team can almost be more important for a developing team like Switzerland.