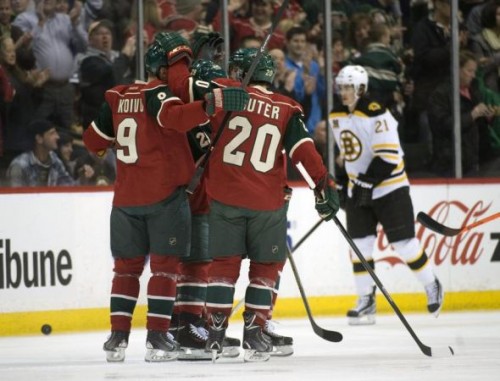 Looking at the Wild's schedule down the stretch had a lot of people worried, especially because it was not long ago that the team was slumping fairly severely. Taking on the leagues top teams in the last two weeks of the season would have any fan base, team, or coaching staff a little nervous, but the Wild have exceeded expectations, winning 6 of their last 7 games and taking 13 of 14 possible points from those games. Needless to say, it's been an impressive stretch for a team whose playoff hopes seemed to be dwindling.
Things really took off Tuesday when the NHL leading Boston Bruins came to town. Earlier this season, the Wild received somewhat of a brutal defeat in Boston so tensions were certainly high. It wasn't only pride on the line however; with a win the Wild would solidify their position as 1st in the Western conference wild card race.
The game was intense from the get-go. With a total of 4 goals in the first 11 minutes it seemed like defense was not going to be the focus of the game. After the 4th goal was scored the bruins added a goal in the second to go up 3-2. Although there were seemingly countless opportunities both ways, the score did not change until the last minute of the game. As has been the case in many of their games on this hot stretch, the Wild received some last minute heroics. Ryan Suter found a rebound at the top of the slot and placed a shot perfectly in the lower corner to tie the game. With all of the momentum at that point, the Wild took over the overtime period, getting a large majority of the chances. Bruins goaltender Tuuka Rask was phenomenal stopping Matt Moulson point blank, while completely sprawled on the ice. The game eventually went to a shootout, where Wild Captain Mikko Koivu scored the only goal. Ilya Bryzgalov made the Final save on Brad Marchant to win the game for the wild.
It was an incredibly exciting night for players and fans alike. Not only did the wild clinch a great playoff spot, but after the game the players took off their jerseys, signed them, and gave them to a few lucky fans.
With the playoffs starting either next Wednesday or Thursday, depending on the season outcome, the Wild will look to improve on their early exit last season. That shouldn't be aproblem as this team is not only playing much better than last year, but also has a significant increase in the amount of talent. It's pretty up in the air as to who the Wild's first round opponent will be, but St. Louis, Anaheim, or San Jose seem like the most viable options.