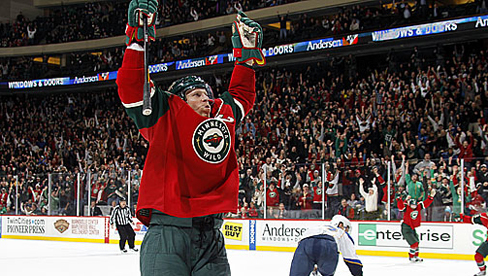 In Minnesota we pride ourselves on things like how tough we are when it comes to cold weather, or how "Minnesota nice" everyone is, but one thing that nobody ever brags about is the dominance of our sports teams. Granted this is rooted in constant disappointment that seems to come along with nearly every season. But problems start to arise when before the season ends, fans are already giving up on their teams. This happens just about every year in Minnesota as the playoff race becomes more intense. This most recent Minnesota Wild Home stand was a significant indicator that this time of year is upon us.
The wild went 1-0-3 on their 4 game stint in the confines of the Xcel Energy Center last week, which was an enormous disappointment. All year, and throughout their franchise history the Wild have been an outstanding team on home ice. Unfortunately something slipped this week, even after the addition of talented goal scorer Matt Moulson, and experienced keeper Ilya Bryzgalov. The team could just need some time to meld, but they better do it quickly as the end of the season is coming very fast.
What is almost more important, though, is that the fans do not quit on their team. Hockey is so much of a mental game that confidence can be absolutely crucial to a team's success. Look at the teams that are winning, they go out and play like they know they are going to win. When a team is in a slump it can be hard to get out of, but what makes it even harder is when their fan base has nothing but bad things to say about them.
Let's take a look at the facts. Even though the wild failed to win three games this week that they absolutely should have, they were still able to get very meaningful points out of each of the games. This is something that will be very important down the stretch, where every point counts. Also, the wild are still very much in playoff contention, holding tightly to the 7th spot in the West. They have a 5-point lead on the 8th and 9th place teams, with one game in hand on the 9th place Coyotes. Additionally, the Wild set a franchise record for most points through 67 games this season with 80. It may not be pretty, but the wild are statistically having an above average season.
The fact of the matter is that the Wild are in good shape, and have a stronger team (at least on paper) than they ever have before. This team made the playoffs last year, and was eliminated in the first round. Being in a solid playoff contention spot, they are not only looking to be there, but also make a significant run at the Stanley Cup. What is important to remember that in the playoffs, anything can happen. We saw it with the 8th seeded Los Angeles Kings winning in 2012. As long as the Wild can get hot don the stretch, look for them to make a deep run in the playoffs. But what's most important for all of you fans out there is to not get down on your team so easily. Show your loyalty; don't show your support only when your team wins. We are the greatest hockey fans in the world, and it's time to prove it.