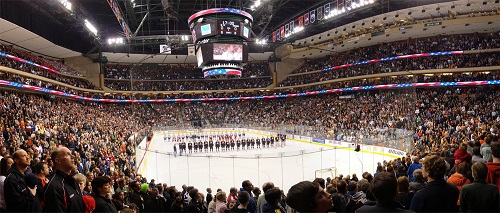 Every so often sports can bring people together. We've seen this recently with the overall success of the winter games in Sochi, and with the upcoming World Cup in Rio de Janeiro. But once every year Minnesotans are treated to one of the best exhibitions in the sporting world: the State High School Hockey Tournament, or as it's known throughout the state of hockey: "The Tourney". This is one of the greatest instances of sports bringing a group of people together as it is on a much smaller scale than international sporting events, not to mention it is much more relatable as the athletes aren't celebrities, they are just kids playing the game they love.
This weekend the Xcel Energy Center played host, as it always does, to the tourney. Section champions from all over the state competed for the two state championship titles in each class, A and AA (Divided based on school population) these teams each brought with them incredible fan bases which turned the arena into a melting pot of cultures from all across the state. This is one of the many reasons that the State tournament is such an amazing place to be. The games started on Wednesday with 2 quarter final sessions, each session holding two games. These continued through Thursday and we're split up by class A and AA. These games were followed by the semi final games on Friday and the championship games on Saturday, while the consolation games were played at Mariucci arena in Minneapolis.
During each of these sessions, there are four different schools in attendance plus anybody who wants to watch the best young athletes in the state, so naturally there are plenty of interesting experiences to be had. Teams this year came from way up north, as far as Hermantown, East Grand Forks, and even Roseau. As you can imagine, for these teams coming to the state Capital to play for a title is far and away the most exciting moment in their sporting careers. In class AA the defending champs, Edina came back and had an even better tournament, winning each of its game decisively on its way to back to back state championships. Form class A, Hermantown looked to get over their history of finishing second with St. Thomas Academy finally out of their way, but were unfortunately unable to overcome East Grand Forks in the championship game, with a 5 goal second period being the difference in that game.
The Minnesota State High School Hockey Tournament is the biggest state tournament of any sport and any state, boasting an overall attendance just shy of 120,000 this year alone. The tournament has always been a popular destination for scouts of all levels, as a large majority of the players go on to play college hockey at a high level, some even making it to the NHL. If you look at the Mr. Hockey winners throughout history you see names like Paul Martin, Darby Hendrickson, and Tom Chorske, each of whom had (have) prolific NHL careers.
For some the tourney is nothing more than an exceptional display of young hockey talent, for others it is the highlight of their year, and for others still it is a way to escape the stresses of everyday life and just sit back and enjoy hours and hours of great hockey. No matter what you're looking for, the Minnesota State High School Hockey tournament promises to entertain, uplift, and excite.