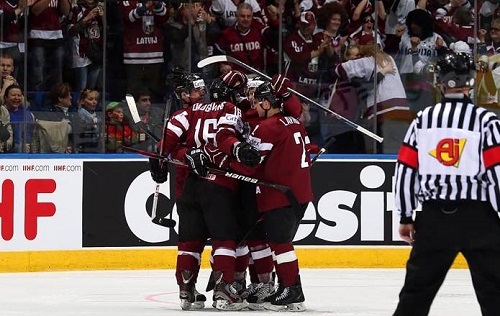 If you were in Las Vegas betting on the Finland vs Latvia game, you would probably put money on Finland, right? Well if you did, you lost some money because Latvia stunned Finland 3-2 at Minsk Arena in Belarus on Saturday.
With all the hustle and bustle about the Baltic State playing surprisingly well at the Olympics, it was an intriguing thought to see how they would start at World's. Their first opponent, mighty Finland, would be a worthy test to see if they can live up to the hype. It proved to be a great game to watch.
There was speculation that Olympic stud Kristers Gudlevskis would get the nod, but that was not the case as Edgars Masalskis of HK Poprad started the game. Latvia found itself losing for most of the game, and then in the 48th minute, Kristaps Sotnieks scored a powerplay goal to tie the game. Then in the 53rd minute of the game, Arturs Kulda beat Predators goalie Pekka Rinne to put Latvia ahead by one. Masalskis held the fort down for the Latvians making 22 saves, and Latvia won their first game against Finland in the World Championships on their seventh try.
Masalskis looked impressive, so it would be a safe bet to start him again next game against Germany, unless coach Ted Nolan has a different game plan in mind. Whatever happens, though, if Latvia can keep it's current playing style up, and beat high caliber teams like Finland, they may make their way into a medal game. You never know with this resilient group.