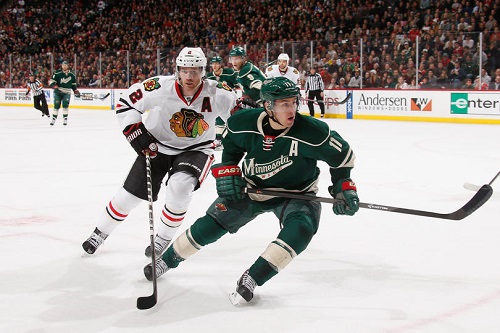 Team USA announced on Friday that Minnesota Wild forward Zach Parise will be captain for the hockey team at this year's Sochi Olympics. This is not Parise's first time in a leadership role for Team USA. In 2010, he was an alternate captain for the team that won a silver medal against Team Canada. In addition, he has also served as captain when he was with the New Jersey Devils. Currently, he is the alternate captain of the Wild.
Parise is having a great year so far for the Wild. The Minnesota native has 18 goals and 17 assists on the season. He is currently tied for 4th in the NHL in power-play goals too.
Now on to the alternate captains. Parise's teammate in Minnesota Ryan Suter is a standout defensemen. He has 6 goals and 27 assists on the season. What makes Suter very valuable is his playing time. Being one of the better defensemen in the league, Suter is averaging almost 30 minutes of ice time a game. Suter has represented the USA before at the IIHF World Championships, IIHF World Junior Championships, and the 2010 Olympics where he was an alternate captain. Fun fact about Suter is that his father was on the 1980 Miracle on Ice team and his Uncle Gary Suter won silver in 2002.
Dustin Brown will serve as Team USA's other alternate captain. Brown has valuable leadership experience as he has been the Los Angeles Kings captain since 2008. He has a strong work ethic and commitment to excellence. In 2012, he helped lead the Kings to a Stanley Cup victory against the Devils. This season, Brown has 18 goals and 11 assists.
Team USA did a great job with selecting its leaders for this year's team. Hopefully the team can come together and focus on bringing home the gold, something it has not done at the Olympics since 1980.