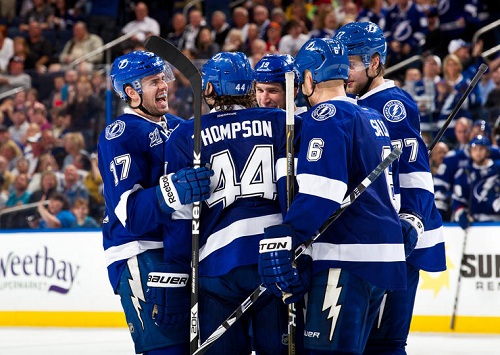 The Toronto Maple Leafs felt they could ride their red-hot goaltender Ben Scrivens–coming off two consecutive shutouts–into the second night of a Sunshine State back-to-back against the Tampa Bay Lightning.
Unfortunately, he came crashing down to Earth in Tuesday night's 4-2 loss, allowing four goals on just 13 shots. He was pulled after the Lightning's fourth goal 06:58 into the third period for back-up goaltender Jussi Rynass.
"If you do have a night like this, you want to try to minimize it as much as possible," Scrivens said on Leafs TV after the game. "Obviously we need to try to do a better job of that next time."
For Tampa Bay, forward Benoit Pouliot had a led the way, picking up three assists in a game for the third time in his career.
Center Steven Stamkos scored his 10th goal of the season, putting him in a group of six players with double-digit goals this season. His goal broke the tie in the second and turned out to be the game-winning goal.
Scrivens' shutout bid ended early when Toronto took a play out of the Lightning playbook, turning the puck over in their defensive zone, leading to Pouliot's first assist and Lecavalier's sixth goal of the year.
Late in the first, Toronto center Mikhail Grabovski (4) ended an 11-game goalless streak, picking up a juicy rebound off goalie Anders Lindback's glove and chipping it home.
Pouliot picked up another assist on Stamkos' goal in the second period when Tampa Bay had only six shots on goal. The Lightning was actually outshot 25-19 for the game.
The Bolts knocked out Scrivens and the Leafs early in the third, scoring two goals in under seven minutes.
Lightning center Alex Killorn scored his first career goal at 02:49, picking up a Toronto defensive zone turnover and firing a wrister from the blue-line that somehow snuck through Scrivens' five-hole. It became clear then that Scrivens did not have the bounces or numbers on his side against the Bolts.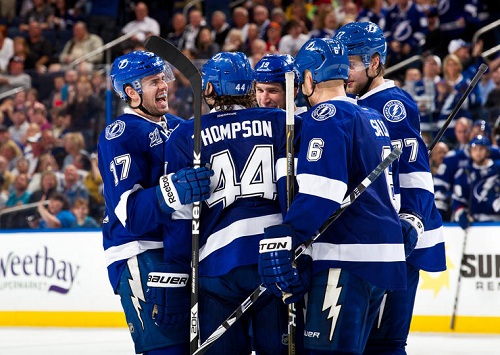 Defenseman Matt Carle (3) closed out the Lightning scoring a few minutes later scoring a power play goal that Scrivens simply didn't pick up as it snuck under his glove.
Maple Leafs forward James Van Reimsdyk (9) tacked on a goal late in the third but albeit a Phil Kessel ringer off the post, Toronto never really threatened again.
The Lightning missed an empty Toronto net by inches twice but the score never again changed.
Tampa Bay now has a two-game winning streak for the second time this season. They have pulled into a tie with the Carolina Hurricanes for first place in the Southeast Division with 17 points.
Tampa Bay has one more home game Thursday night before heading out for a weekend road trip. They will face off with the Cup-contending Boston Bruins starting at 7:30 p.m. ET.
Toronto also has a day to rest before a home match against the Buffalo Sabres on Thursday night. The puck drops at 7 p.m. ET.