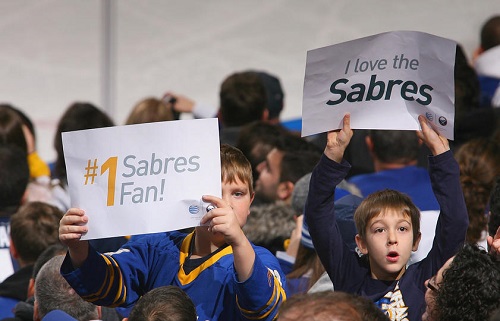 As I sat in the upper bowl of the First Niagara Center Friday night, I was shocked to see what happened at the end of the game. No, it wasn't the fact that the Buffalo Sabres had just beaten the Toronto Maple Leafs 3-2 in OT, but the reaction from Leafs Nation.
Christian Ehrhoff sent a shot on a well-screened James Reimer and it went 5-hole. As the Sabres were celebrating, Leafs fans started throwing beer cans on the ice. This was just crazy! I had never been to a sporting event where fans were that upset that their team had just lost. It's not like they had just been eliminated from the playoffs, this was a November regular season hockey game. A few of the cans hit Sabres players as they were celebrating. Fortunately, there are no glass containers at the FNC. Take a look for yourself below: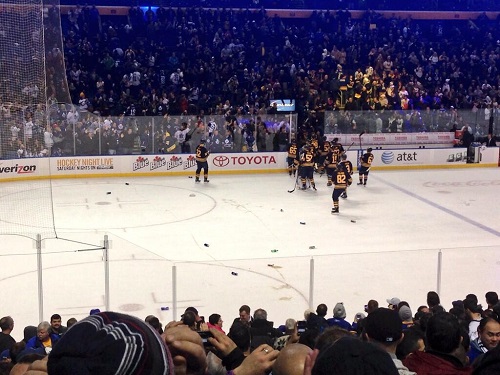 The NHL has a Fan Code of Conduct. Here are some highlights from it:
Fans may not interfere with the event and/or athletes in any manner.
Fans shall refrain from using abusive language or obscene gestures.
Fans may not engage in fighting, throwing objects or other behavior deemed detrimental to the experience of other guests and those who engage in any of these actions will immediately be ejected from the game.
Let's see, so Leafs fans threw objects on the ice. They did not consume alcohol in a legal manner. Swearing at sporting events is obnoxious and I am not saying just the opposing team's fans swear but I think we as a society swear a lot more. There were some small children (maybe 5-7 years old one row a head) and they would hear F*$! this and F*$! that. Is this the example we want to share with today's youth? That it is okay to get drunk, throw objects on the ice and swear?
I am glad the Sabres beat their rival. It definitely gave the home fans something to cheer about for the Holidays. As for you Leafs fans, keep spending your hard earned loonies and toonies stateside and just remember one thing. At least Buffalo has not gone as long without a Stanley Cup (1970) than Toronto (1967), joke 😉
Love Reading About Hockey?

Subscribe to keep up-to-date with the latest and most interesting hockey news!
| | |
| --- | --- |
| | We hate spam just as much as you |