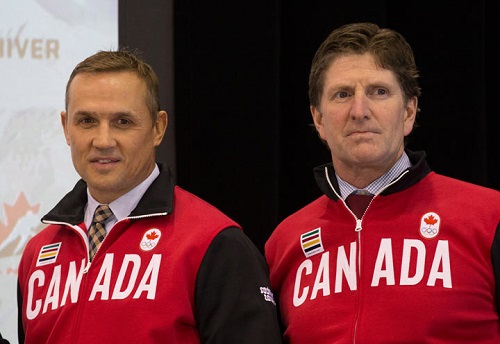 On Tuesday morning, 25 men received a call from Hockey Canada. Collaboratively, these men—together with Steve Yzerman, Mike Babcock, and Hockey Canada management—serve to fuel a nation's dream of reprising a golden performance on hockey's grandest stage.
Roster members are fixtures in the NHL, displaying their mastery and skill in a grueling 82-game season amidst scrutiny and celebration. Stanley Cup champions, World Junior champions, NHL team captains, and eleven returning players from previous Olympic games form Team Canada's complexion.
With due diligence, Yzerman and staff selected players that embody specific characteristics—passion, versatility, and strong work ethic. The selections are subject to debate, with many adept players finding themselves on the periphery. Here are a few notable omissions from Team Canada:
Martin St. Louis is at the helm of the Tampa Bay Lightening and has relentlessly led the charge for his club after an injury sidelined Steven Stamkos. The right-winger is a powerful skater that can bust through the neutral zone with authority—especially on the top penalty killing unit. He is a genuine three-zone player and plays a disciplined yet gritty brand of hockey. St. Louis' strongest suit is his speed, which aids in scoring and back checking. He provides a solid veteran presence in the locker room and can adapt to many situations. St. Louis is a Stanley Cup champion and the NHL's reigning Art Ross Trophy winner.
James Neal is an offensive maven for the Pittsburgh Penguins, notching 16 goals in 26 games played this season. Neal has impeccable vision and can score from a variety of angles and positions—a valuable weapon to have when traditional scoring lanes are clogged. He clocks considerable minutes on the Penguins' top power play unit—a decision that continually pays off for coach Dan Bylsma.
Mike Richards occupies a distinct role on the Los Angeles Kings roster. Richards has shown considerable growth since lacing up his skates for the 2010 Olympic games. Richards plays with valor and zeal—robbing opponents of the puck in all three zones of the ice, dominating at the face off circle, delivering thunderous checks, and can play on the power play and penalty killing units. His speed and superb puck control makes it difficult for opposing skaters to separate his body from the puck. Further, Richards is a good option for shootouts.
Team Canada's decision to pass on Flyers' main man Claude Giroux is logical. Describing Giroux's start to the 2013-2014 campaign as lack luster is an understatement. The Flyers were unable to score more than 2 goals per game, despite 18 consecutive power play opportunities by mid October. Further, the club experienced its worst start in franchise history. Despite a booting of coach Peter Laviolette, Giroux was unable to spark his team during a time where the Flyers needed their captain to step up. While Giroux has found his scoring touch his then, the forward lacks consistency. For Team Canada, success is necessitated by consistent and effective play. Giroux is simply unreliable and lacks uniqueness.
To those points, I question the decision to include Rick Nash of the New York Rangers. Not unlike Giroux, the Brampton native had trouble scoring goals at the start of the season. In 27 games played this season, Nash has scored only nine goals and is ranked minus-2. Ultimately, I suggest swapping Nash for Eric Staal.
Notes
Other players missing from Team Canada's roster include Jordan Eberble, Tyler Sequin, Kris Letang, Josh Harding, Corey Crawford, Logan Couture, Taylor Hall, Andrew Ladd, Jason Spezza, and Eric Staal.