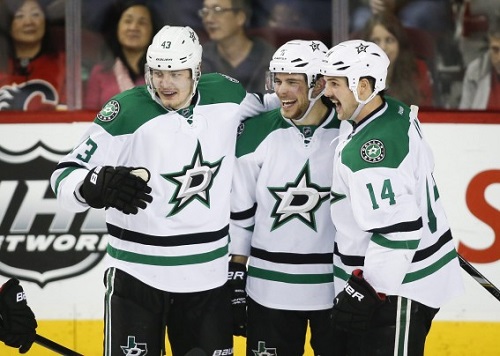 After a recent onslaught of points coming from the new Dallas Stars first line combination of Jamie Benn, Tyler Seguin, and rookie Valeri Nichushkin, many fans think that the Stars may have a line to keep.
Built up of three young players that are still getting better as the days pass, this line has put up seven goals in the past three games, one for Benn, one for Nichushkin, and a whopping five goals for Seguin. On top of that, these guys have not only shown that they can put goals on the board, but that they can help put them on the board as well, with two assists for Nichushkin, two for Seguin, and Jamie Benn pulling in six assists in the past three games. These offensive numbers added with the fast paced skating and playing have earned the trio the nickname "Legion of Zoom", a team that could quite possibly take the NHL by storm and be a leading factor to the Stars returning to the playoff prominence that they once knew.
Many fans knew that Seguin and Benn would mostly likely make a deadly team as soon as they heard the news of him coming from the Boston Bruins, but an unlikely third counterpart would be young Valeri Nichushkin. At only 18 years of age, many did not expect much of Nichushkin, but when he made the NHL team that had many wondering whether he would become the next big thing for the Stars. While many have been a bit disappointed by Val's playing so far, only putting up two goals and six assists, he is showing signs that he is more adjusted to playing in the NHL and can only go up from here. It is looking like playing alongside Benn and Seguin has helped him grow as a player and will continue to do so as the season goes on. The more he gets adjusted to this level of play, the more Nichushkin will contribute offensively. It is beginning to look like Nichushkin will become one of the Stars top players in the next season or so, already beginning to contribute more to the scoreboard.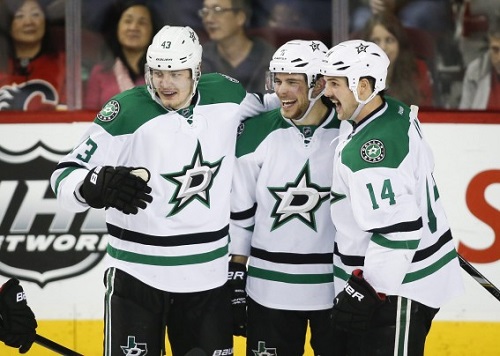 This line is not only a line that can put points on the board, but one that is truly exciting to watch. All three of these guys are players that have potential to be legends one day and have a natural ability to play hockey. Seguin, Benn, and Nichushkin are great to watch, but sensational when put together, quite possibly being what the Stars have been looking for to take them back to the top. Jamie Benn has often been compared to Mike Modano and is really showing that he can fill that role of team leader and superstar player, but what Modano lacked defensively, Benn has. If Jamie Benn is filling the place of Mike Modano, then Tyler Seguin would be taking the place of Brett Hull, scoring the goals and occasionally saying things that he probably shouldn't say. Nichushkin is shaping up to be a similar player to Jere Lehtinen, putting points on the board as well as being a very defensive forward. It wouldn't be surprising to see this trio stay together longer, possibly winning some awards in the next few seasons (maybe even Lord Stanley?).
A new star is rising in Dallas.