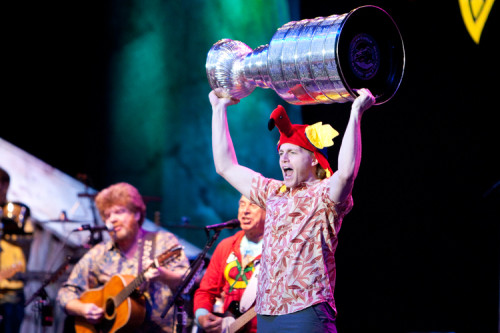 Patrick Kane has once again found himself in hot water. Facing allegations of rape, the reputation he has worked so hard to rebuild since the tumultuous early part of his career is now in jeopardy. Regardless of what the verdict in his case is – and, as of right now, nothing has been proven – Kane won't come out of this looking good.
Kane's is another story of a pro athlete's life taking a turn for the worst because of legal trouble. It's a sad but, frankly, all too common occurrence even in 2015, and one that isn't limited to hockey (if anything, hockey is the least likely culprit among the pro sports leagues). If it hasn't been made clear already, then here's some useful advice for current and future pro athletes: be cautious of everything you do and say.
You're under a microscope from the moment you enter the realm of pro sports (even more so if you're in a big market), so get used to having your every move scrutinized. Think that little dust-up at the bar last weekend went unnoticed? In the age of smart phones and social media, the video is already spreading like a virus on YouTube and Twitter.
So should players stop living a normal life (normal being a relative term here) just to avoid the potential controversy that waits simply by stepping foot outside? Absolutely not, and to suggest so is irrational – not to mention unfair to the athletes. But there's a huge difference between living free and living careless.
Kane is no stranger to having a good time, as his Stanley Cup celebrations in 2013 and 2015 have shown. But since the taxi incident his only major blemish has been butchering the Tom Petty classic Free Fallin' on karaoke night. Even then, the only thing he was guilty of was embarrassing himself in public, although odds are he wasn't too shaken up about it.
But an alleged rape is an entirely different situation altogether. Kane now runs the risk of not only damaging his image and reputation, but that of the Chicago Blackhawks organization and anyone else he is associated with (see: NHL 16 cover decision). That's why athletes need to think about the people around them, because their actions affect more than just themselves.
Whether they like it or not they are regarded as heroes and role models by many people, so it's time to start acting like it. Enough of the domestic abuse cases, the DUIs, the assaults and other run-ins with the law. No one is perfect, but it shouldn't be unreasonable to expect that – for the duration of their playing careers at a minimum – they can maintain a clean image.
The simple fact is there's so much to lose by not using at least some forethought – and there are plenty of examples to show just that.
NFL player Ray Rice was released last year and remains unsigned after a video emerged showing him punching his then-girlfriend; Donald Sterling was banned from the NBA for life because of racist remarks he made; and Slava Voynov of the Los Angeles Kings played only six games last season because of allegations of domestic violence.
For Kane, the consequence of a guilty verdict could be as severe as the termination of his contract, if not a hefty suspension from the 'Hawks. Even an innocent verdict will still carry consequences for Kane, who will likely be kept on a tight leash by his team in an attempt to avoid any future problems.
Plain and simple: Kane's situation should be a message to athletes everywhere that they need to be more responsible for themselves and more accountable to those around them.
Love Reading About Hockey?

Subscribe to keep up-to-date with the latest and most interesting hockey news!
| | |
| --- | --- |
| | We hate spam just as much as you |