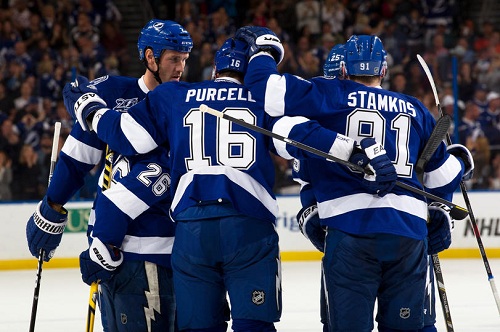 For the first time since February 3, 2009, C Vincent Lecavalier was charged with a fighting major. It came in one of his best games of the season, as he also scored a goal and registered seven hits in the Tampa Bay Lightning's 5-1 victory Sunday night over the Philadelphia Flyers (2-4-0, 4 PTS).
His fight with Flyers D Luke Schenn came just five minutes into the game after Schenn took exception to a Lecavalier check at center ice that left Schenn on his back.
"It means a lot for the team, it gets everyone fired up and I think after that we took off," Lightning D Victor Hedman said in the locker room post-game.
Lecavalier sticking up for himself and invoking memories of the 2004 Stanley Cup Final fight against Jarome Iginla provided an energy boost that helped the Lightning (4-1-0, 8 PTS) to overcome an early Philadelphia goal to score five unanswered.
"We don't like to see him fight but he's not going to back down," C Steven Stamkos told the media afterwards. "We really took a lot of energy off that."
Philadelphia's first goal came on C Sean Couturier's (2) shot just 59 seconds into the game that somehow snuck between G Anders Lindback's skate and the post.
"You saw that goal, it's something that shouldn't go in," Tampa Bay coach Guy Boucher said. "Then right after, he just made some crazy saves. At some point he just shuts the door, and that's the mark of great goaltenders."
It was a soft goal allowed by Lindback, who otherwise had a stellar night, making 24 of 25 saves and helping to shut down six Philadelphia power plays.
After the Lightning shut down a rare triple minor penalty to RW BJ Crombeen, it was the Bolts' power play unit who got the ball rolling in the last six minutes of the period.
RW Teddy Purcell (1) drove home a one-timer assisted by Stamkos and RW Martin St. Louis to tie the game at 14:34. The assist was Stamkos' seventh for the season.
Less than two minutes later, D Eric Brewer (3) scored a one-timer of his own assisted by Purcell and St. Louis, who made a beautiful backhand pass to set up the shot.
Brewer's shot actually deflected off Flyers C Maxime Talbot's stick to give him his third goal of the year on just his fourth shot.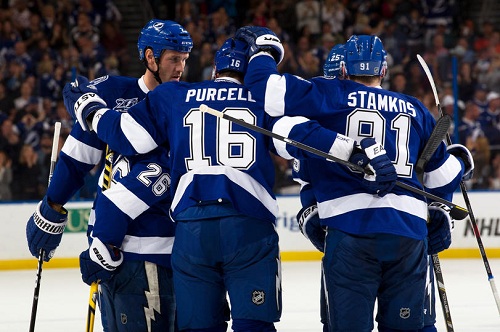 After Flyers RW Mike Knuble committed a tripping penalty at 18:11 in the first, Lecavalier put the game on ice with a top-shelf power play goal assisted by St. Louis and Salo that knocked the water bottle off the net.
Tampa Bay went two for five on the power play for the game.
The goal gave the Lightning a 3-1 lead over a jet-lagged Philadelphia squad playing in a back-to-back after beating the Florida Panthers 7-1 Saturday night.
The Lightning managed to have a semi-successful second period for the first time this season, maintaining their 3-1 lead into the third despite being out-shot by Philadelphia 11-5 in the second.
Hedman (2) and Stamkos (3) scored in the third to set the final margin of 5-1.
G Michael Leighton struggled for the Flyers, playing for a resting G Ilya Bryzgalov, saving 21 of 26 Tampa Bay shots in the loss.
St. Louis, who assisted on Stamkos' goal as well, had four assists in the game to go along with eight for the season.
"We know what's the right way," St. Louis said. "I thought tonight we played the right way."
Purcell also had two assists to go along with his first period goal.
The Lightning, now 2-0-0 on their five-game home stand, will await a visit from their cross-state rival Panthers on Tuesday night at 7:30 p.m. ET.
Florida has lost four in a row while being outscored 18-3 since winning opening night against the Carolina Hurricanes.
The game will mark the first of five meetings between the two clubs this season.
The Flyers will head to Madison Square Garden Tuesday night to take on the New York Rangers, fresh off a victory over the Toronto Maple Leafs on Saturday night.
The puck drops at 7 p.m. ET.