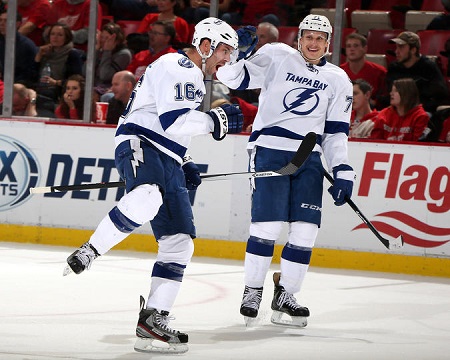 The Tampa Bay Lightning were born in 1992. Before Saturday, they had beaten the Detroit Red Wings in Detroit one time in franchise history: January 12, 1994.
That changed with their 3-2 overtime victory on Saturday, in the first of five meetings between Detroit and Tampa Bay this season. For the Bolts, there was a statement to be made. This was the first of seven of eight on the road, against an Atlantic Division rival. And the Lightning came to play.
Ben Bishop turned away 25 of 27 shots. Tampa Bay only allowed five shots in the third period. They had just two giveaways to Detroit's eight. And they held off the Wings despite two goals from Henrik Zetterberg.
But most impressive for Tampa Bay was an eight-minute stretch in the second period in which they fought off three consecutive penalties and managed to take a 2-1 lead in the process.
A refresher:
5:09 – Andrej Sustr picked up a hooking penalty.
7:22 – Teddy Purcell served a too many men on the ice penalty.
8:46 – Nate Thompson picked up a double minor for hooking.
The Lightning worked a five-on-three penalty kill for about 45 seconds before coping with another three minutes of five-on-four. They managed to fight off about eight minutes worth of penalties.
Just seconds after returning to full strength, Stamkos scored a beauty of a goal to extend his scoring streak to six games.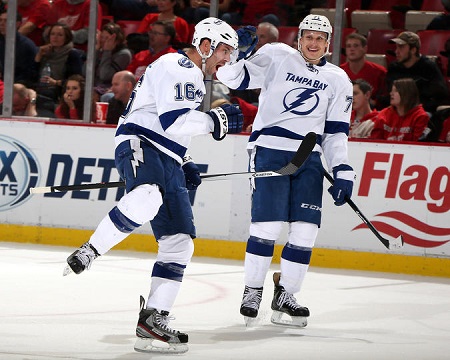 They never really looked back, generating good scoring chances down the stretch and into overtime to come away with two points. Zetterberg did manage to tie the game with about four minutes to go, but Bishop and the Bolts stood tall in overtime.
The Bolts proved to Detroit that they are here to stay in the Atlantic Division race. If last year's Lightning fell behind 1-0 on the road less than four minutes into the game, forget about it. But this season, the goaltending is good enough to keep them in games, and the defense looks improved. The young players are a year older, and the future looks bright for the Lightning.
Heck, the present looks bright for the Lightning.
One thing is for sure: The Atlantic Division race is going to be fun. Buckle up, Bolts, Leafs, Bruins, Wings, Senators and Canadiens fans. Panthers and Sabres fans? Yeah, sorry about that.
Notes:
The Bolts skated with 11 forwards and 7 defensemen against Detroit.
B.J. Crombeen, Pierre-Cedric Labrie and Keith Aulie were the healthy scratches for Tampa Bay on Saturday.
The Lightning will open their third back-to-back of the year on Monday against the Boston Bruins at 1 p.m. ET. The second game will be Tuesday night in Montreal against the Canadiens at 7:30 p.m. ET. They will have a little more rest than usual in between the two games thanks to the early start time in Boston, but it'll be a back-to-back, nonetheless.
What does everybody else think?