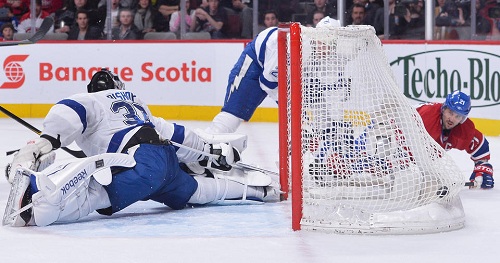 They say all good things must come to an end. Well, apparently all bad things must come to an end as well.
It's been a long time coming, but the Tampa Bay Lightning have officially been eliminated from playoff contention. The death blow came in Thursday night's 3-2 loss to the Montreal Canadiens, where Brian Gionta scored two goals for Montreal, including the game-winner with 46.4 seconds to play in regulation.
"You never want to be [out of the playoff race], and I don't believe we should be in that situation," Vincent Lecavalier said. "But that's where we are."
The Lightning are in that position after a tumultuous season in which they fought through injuries, inconsistent goaltending, poor defense, a coaching change and a major trade to reach the 17-23-4 record they now hold.
As has become the norm with the 2013 Lightning, they spotted Montreal two goals to start Thursday night's game. Alex Galchenyuk (9) jammed home a loose puck on a wild play in front of the Tampa Bay net for the game's first goal, and Gionta (13) helped Montreal capitalize on a horrible turnover by Ryan Malone in his own zone, deflecting a Tomas Plekanec shot into the net.
Tampa Bay goalie Ben Bishop was beaten just three out of 35 times on the night, in what was a brilliantly goal-tended game on both ends. Montreal goalie Carey Price made 32 of 34 saves. On the two goals Price did surrender, there was absolutely nothing he could have done.
Richard Panik (5) took a Victor Hedman pass in the goal crease and made a tight spin move to take Price out of the play and score a power-play goal. Lecavalier (10) tied the game at 5:07 in the third, picking up a wild puck on the side of the net and beating Price.
After Gionta (14) scored the game-winner by picking up a rebound of the back boards and sneaking the puck past Bishop's skate, Bishop lay on the ice without moving for about 10 seconds.
"They're a good team, and we knew that," Lecavalier said. "They had lost three in a row so we knew they were going to come out hard."
It was a heartbreaking loss for Tampa Bay, made even more painful because neither Steven Stamkos nor Martin St. Louis picked up a point to aid them in the NHL points and goals races. They each sit three points behind the idle Sidney Crosby with 53, and Stamkos trails Alex Ovechkin by one goal with 27.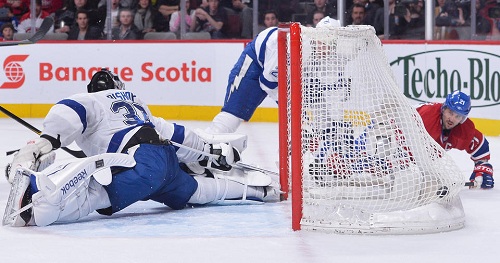 The Lightning have four games left to pursue individual goals now that the team goals have gone to ashes. They will attempt to snap a five-game losing streak on Sunday night, when they host the Carolina Hurricanes at 6 p.m. ET.
Montreal, meanwhile, is looking to lock up the No. 2 seed in the Eastern Conference, and Thursday night's victory goes a long way towards achieving such a goal. They currently sit two points ahead of the Boston Bruins.
Montreal, who also has four games remaining, will host Ovechkin and the Washington Capitals on Saturday night at 7 p.m. ET.
Love Reading About Hockey?

Subscribe to keep up-to-date with the latest and most interesting hockey news!
| | |
| --- | --- |
| | We hate spam just as much as you |