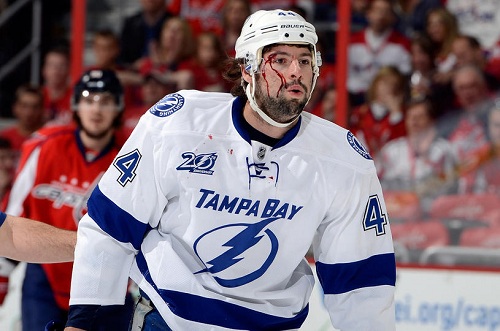 I may have covered this before, but the Lightning really aren't very good. If they were real lightning and they shocked you, it would probably hurt as much as one of those fake gum packets that emit an electrical charge when you try to pull the fake piece of gum out.
In other words, it wouldn't hurt much.
Sure, their offense is great, one of the best in the league even. But their defense and goaltending have been so poor for such a long time that you may begin to wonder whether they are even trying to fix the problem. And it has to be a coaching issue because no defense in the National Hockey League could be this bad.
Right?
Saturday night against the Washington Capitals, Tampa Bay dug themselves in a 4-0 hole before the second period even made it to the first commercial break. Washington had goals from Troy Brouwer (16), Jack Hillen (2), Alex Ovechkin (27) and Jason Chimera (2): Ovechkin's put him back in the lead in the goals race with Steven Stamkos, who was goalless in the game.
The barrage of goals chased Ben Bishop (17/20) — who has come crashing down to Earth after his hot start with the Lightning — and forced coach Jon Cooper to turn to the hapless Mathieu Garon (15/18).
When Richard Panik (3) finally broke through with the Lightning's first goal at 3:55 in the second period, Eric Fehr (8) quickly scored again for Washington to extend the lead back to four goals.
Sure, Washington then let up enough for Tampa Bay to come all the way back and tie the game. Martin St. Louis (10, 11) scored twice, Panik (4) scored again and Teddy Purcell (11) tied the game late in the third period.
That will happen when your offense is talented enough to nearly win games by itself. If the defense and goaltending are mediocre enough for a period of time, you get a chance to see what the offense can do. The problem is that the defense and goaltending are really bad and have been for most of the season.
Nonetheless, the Lightning always make it exciting because of their electric offense. It's a shame to think Steven Stamkos is wasting away his prime years on such a bad team, but that is just the nature of sports sometimes.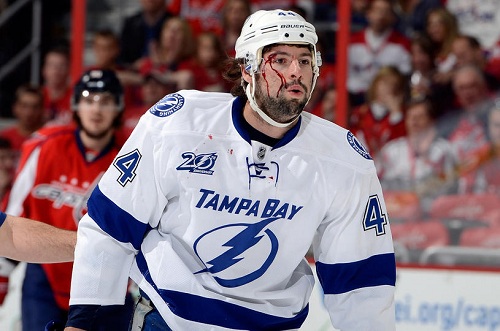 Anyways, it wasn't long before the real Lightning reared their ugly head in overtime. Vincent Lecavalier picked up a slashing penalty early on, and Mike Green (10) scored on the power play to end the game.
Washington's 6-5 victory taught me to no longer be teased by this team. They won't be any good until they can build a good defense and garner some consistent goaltending.
I would wager to say that general manager Steve Yzerman's job will be on the line next season if he can't even marginally improve this roster in the offseason. I mean, look how quickly the trigger was pulled on Guy Boucher. That should be considered a warning shot to Yzerman.
This team is young, sure, but they don't seem to be improving, and that's important. A well-coached team should at least improve; these are NHL-caliber players. We'll have to give them the offseason before we start calling for people's heads, though.
Unfortunately for the Bolts, they will be right back in action tomorrow night! Fortunately, they will be taking on a similarly terrible team in the Buffalo Sabres.
The game, the second in a four-game road trip for Tampa Bay, will start early at 5 p.m. ET.
Washington, meanwhile, is riding a season-high seven game winning streak and owns first place in the Southeast Division. The Caps are next back in action on Tuesday night against the Toronto Maple Leafs, starting at 7 p.m. ET.
They have a four-point lead over the second place Winnipeg Jets.
NOTES
The Lightning reassigned forwards Brett Connolly and Tyler Johnson to the Syracuse Crunch of the American Hockey League late Friday afternoon. The move was made (presumably) so that some of the young Bolts can actually get playoff experience since Syracuse is in third in the Eastern Conference. It's incredible really; that the Lightning can be so bad while their minor league team is so good. What gives?