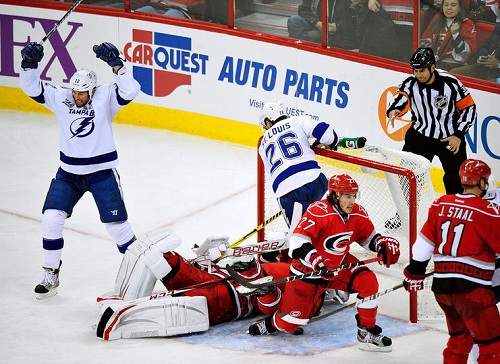 Mathieu Garon was stellar in net Tuesday night for the Tampa Bay Lightning (2-1-0), making 35 saves on 36 shots in a 4-1 victory over the Carolina Hurricanes.
The Bolts were able to tough out their first road win of the season despite playing the second game in as many nights, losing 4-3 to the New York Islanders on Monday.
"We worked tonight," Lightning head coach Guy Boucher told NHL.com. "Our last game, guys were impatient and it wasn't a lack of effort and it wasn't that guys weren't first on the puck, but tonight we needed to work, and work within the structure."
Tampa Bay did just that while Carolina struggled to get out of their own defensive zone for much of the game despite having two days off since their season-opening 5-1 loss to the Florida Panthers on Saturday.
In the first period, Tampa Bay spent a lot of time around Cam Ward's net. After overcoming several early icing calls, the Bolts put home two unanswered goals at 05:18 and 11:36.
Tom Pyatt (1) scored the first goal, showing incredible hand-eye coordination in batting Vincent Lecavalier's pass out of the air and past Ward.
Less than 24 hours after becoming the first Lightning player to have 4 points in his first two National Hockey League games, Cory Conacher (2) continued his hot start to the season, jamming home a Lecavalier rebound through the five-hole of Ward.
Carolina made a strong push in the second, cutting the lead to one on Jeff Skinner's power play goal (1) at 03:35 and out-playing Tampa Bay for much of the period.
However, Garon stayed strong and held the lead at 2-1 despite 13 Hurricane shots on net in the period.
The Lightning proceeded to put the game away in the third when five Carolina penalties wore them down and quelled their comeback attempt.
Keith Aulie (1) started off the third scoring a soft goal at 01:37 on Ward that extended the lead to 3-1.
The dagger came from Ryan Malone (1) at 09:57 in the third when the puck trickled by Ward and he slammed it home to give Tampa Bay a 4-1 lead.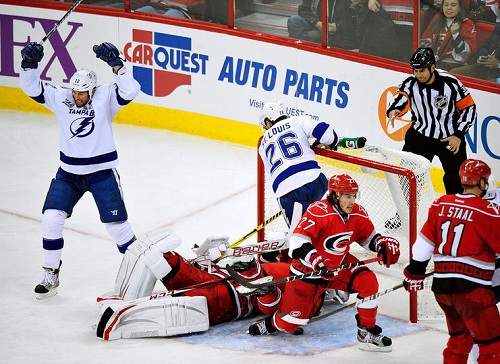 Ward allowed four goals despite seeing only 26 shots.
"It was nice to bounce back and have everyone chip in," Malone said to NHL.com. "It was important to get off to an early start and that carried us. All around, it was a much better defensive effort [than Monday] and Garon played great out there."
Fresh off of their first road win, the Lightning will have two days to rest and prepare for the first of a five-game home stand against the Ottawa Senators.
The Hurricanes, still looking for their first win of the 2013 season, will finish off their home stand Thursday night against the Buffalo Sabres.