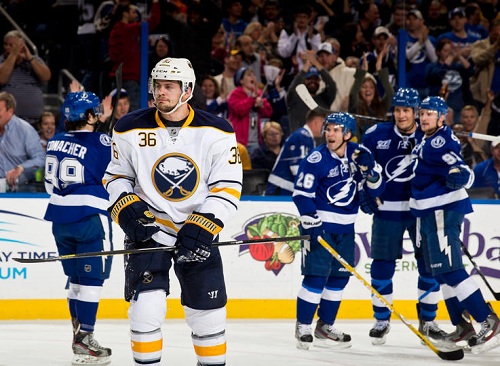 Steven Stamkos and Martin St. Louis had a goal and an assist apiece in Tampa Bay's 2-1 win over Buffalo at Tampa Bay Times Forum.
The Sabres had more penalty minutes (17) than shots (14) in the loss that snapped their three-game winning streak.
Jordan Leopold blamed their lack of effort and urgency for their fall tonight.
"We're getting something rolling there and then go out and have that," Leopold said.
This gave the Lightning their first win without head coach Guy Boucher, who was fired on Saturday. The team's new head coach, Jon Cooper, was watching from the press box and will be making his NHL debut on Friday.
Kevin Porter's shot 13:41 into the game ricocheted off the goal post and stopped in the crease behind goaltender Mathieu Garon. Leopold and Marcus Foligno were within reach, but didn't react quickly enough to stuff it in.
The Lightning were the ones to strike first. Stamkos fired one home and gave Tampa Bay a 1-0 lead in the first period. He leads the league with 23 goals.
St. Louis extended Tampa Bay's lead on a two-man advantage by blasting a one-timer past Ryan Miller.
Leopold scored Buffalo's lone goal with just over three minutes left of play.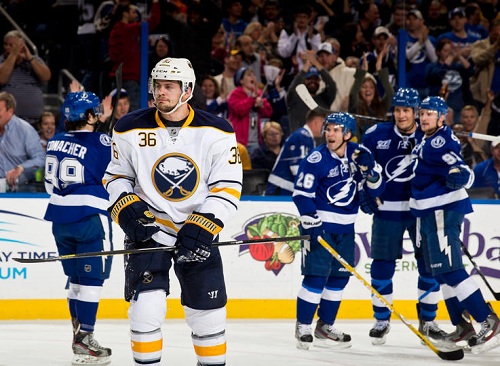 Head coach Ron Rolston had no answers following the disappointing loss.
"There wasn't a lot of urgency in anything tonight," Rolston said.
Buffalo continued to struggle on the power play. They were 0 for 4 for the night and remain dead last in the NHL, capitalizing on only 12.5 percent of their power plays.
"That was the difference, Leopold said. "They scored on their power play and we didn't."
Miller faced 25 shots tonight. He has a 2.88 GAA and a .911 save percentage this season.
"No one's gonna help us," Miller said. "We gotta get two points every night."
The Sabres are now 13-16-4 and head to the BB&T Center to face the Florida Panthers on Thursday.
Three Stars:
Steven Stamkos
Martin St. Louis
Keith Aulie
Notes:
• Thomas Vanek left the game with an upper-body injury.
• Drew Stafford was a healthy scratch for second straight game.
• Sabres faceoff percentage is 45.5%. (29th in the NHL.)
• Buffalo has 15 games left to play.