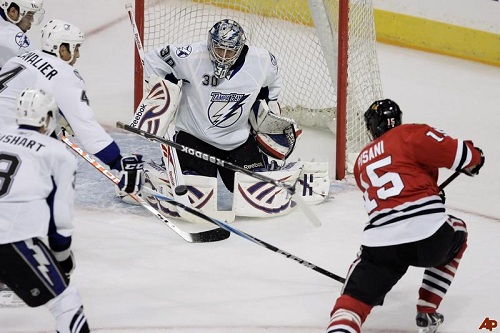 The Tampa Bay Lightning made a move late Thursday morning to bolster the goaltending depth for its American Hockey League-affiliate Syracuse Crunch, according to vice president and general manager Steve Yzerman.
Tampa Bay traded slumping goaltender Dustin Tokarski, a 2008 Lightning draft pick, to the Hamilton Bulldogs (affiliate of the Montreal Canadiens) for goaltender Cedrick Desjardins.
Yzerman believes Desjardins, 27, will bring a bit more experience and veteran presence to the Crunch than the 23-year-old Tokarski. He also says Desjardins is more ready to fill in for the big club if needed.
Desjardins, who played two games for Tampa Bay during the 2010-2011 season, has compiled a 2.94 goals-against average and .905 save percentage in 22 games for Hamilton in 2012-2013.
"We think he's a very good – an excellent goaltender at the American League level," Yzerman told Bolts TV. "We just think that he's more ready to play for us if we need him up here."
Tokarski seemed stuck in neutral with the Crunch (formerly Norfolk Admirals), labeled Tampa Bay's "goaltender-of-the-future" since his arrival four years ago.
"It's good for him," Yzerman said. "He gets an opportunity in a new organization and after four years here, maybe that's a good thing for him."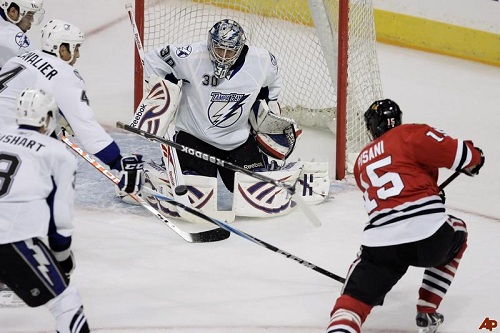 Desjardins may get his first opportunity to play for the Crunch Friday night when they face off against the Binghamton Senators (affiliate of the Ottawa Senators) at 7:05 p.m. ET. Syracuse coach Jon Cooper has not announced the starting goaltender for the game.
Notes
Tampa Bay also assigned forward Pierre-Cedric Labrie and defenseman Brendan Mikkelson to the Crunch for a conditioning assignment. Boucher cited a lack of playing time at the NHL level as the purpose for the move. The organization felt they could stay in game shape by playing with Syracuse