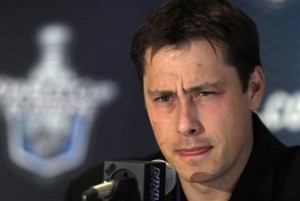 The probability of a Tampa Bay Lightning playoff appearance in 2013 seems to creep closer and closer to zero every day.
The losses have piled up, the injuries have piled up, and the frustration has reached a boiling point. Add Anders Lindback and his sprained right ankle to the list, after he felt a pop when he jammed his skate against the post on a save Wednesday night against the Toronto Maple Leafs.
Tampa Bay had to place him on injured reserve (out a minimum of 15 days), making four players on IR. Lindback joins captain Vincent Lecavalier (foot), Ryan Malone (shoulder) and Benoit Pouliot (shoulder) in the cavalcade of injured Bolts.
Lindback was finally starting to heat up, with a 1.81 goals-against average in his last five starts. To fill the void left by Lindback, Tampa Bay called up goalie Cedrick Desjardins from the Syracuse Crunch of the American Hockey League.
However, Mathieu Garon is expected to get both starts in net this weekend against the Ottawa Senators on Saturday and the Winnipeg Jets on Sunday.
Pouliot's return is also in question after the Lightning called up forward Richard Panik from Syracuse on Thursday. Panik has played in nine games for Tampa Bay this season, scoring a goal.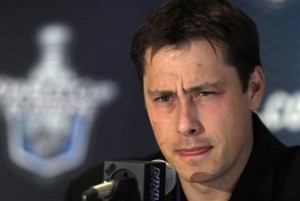 The Lightning and coach Guy Boucher continue to try to piece together a healthy enough lineup to take the ice for the final 18 games of the season.
General manager Steve Yzerman announced additional incoming reinforcements on Thursday as well. Defenseman Andrej Sustr, an impressive prospect from the University of Nebraska-Omaha, signed a two-year entry-level deal with the Lightning.
Sustr will join Tampa Bay for practices and evaluation next week and likely see action in several games before the end of the season.
For now, the strained Lightning lineup turns its attention to Ottawa on Saturday at 2 p.m. ET.